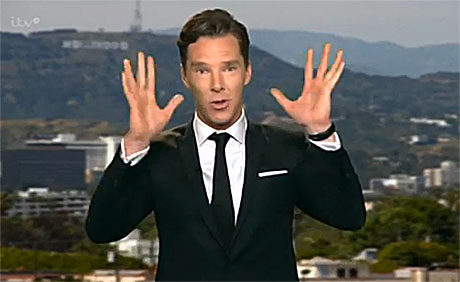 It's becoming apparent that, just as a dog will always find a dropped hot dog in the middle of a large field, if you give Benedict Cumberbatch a camera and a few minutes, he will commence larking about.
Take last night's National Television Awards, in which Benedict snuck past David Tennant and Olivia Colman (Broadchurch), swept beyond the grabbing arms of Idris Elba (Luther), and leapt manfully over Suranne Jones and Bradley Walsh (Law & Order UK) to take the inaugural Best Detective award.
The trophy was presented by Kiefer Sutherland in London, but Benedict is not in London right now, he's in LA, and this is where that video camera comes in.
Take a look at what happened next:
Doctor Who had a good evening too, taking Best Drama (because it is) and a win in the Best Drama Performance category for Matt Smith. Look, he's made a video to thank the fans too, but with fewer shorts in it:
I can't help but feel an opportunity has been missed there.
See more:
When Sherlock Met Sherlock
PHOTOS: Benedict Cumberbatch and Michael Fassbender's Wild Golden Globe Weekend
10 Great Benedict Cumberbatch Appearances
Top 12 Fandom-Related Viral Videos of 2013
Read More
Filed Under: