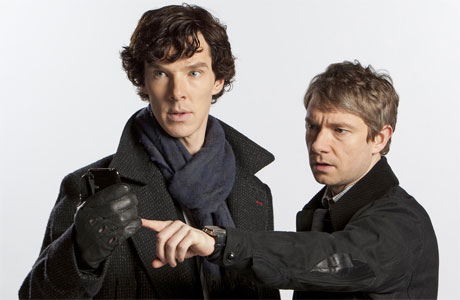 Trust us, we're staying schtum about the goings on in Sherlock until it's possible for an American audience to see it (so just the 16 days and counting), but you might like to know that fandom of this most British of TV shows is not restricted to countries that share a common language with the people writing the scripts.
In fact, according to BBC News's China Blog, the real obsessive fans of Holmes and Watson are in China, and they've even taken to giving each of the two leads their own nicknames.
Thanks to a forum devoted to Benedict Cumberbatch and his detective alter ego, Sherlock has been renamed "Curly Fu." Curly because of the hair, and fu being a Chinese derivation from Holmes. In honor of this unlikely nickname, the forum is entitled the Baidu Curly Fu Bar.
And naturally the comments tend towards the physical appreciation of Benedict himself. Ranging from, "The human race cannot stop the invasion of Curly Fu," to "Curly Fu is the sexiest when he plays violin," and even "Curly Fu is my only male god. He represents beauty and wisdom, but better with his clothes off."
As for Martin Freeman's John Watson, his new name comes from a play on the Mandarin "hua sheng," which means nut and sounds a bit like Martin. Hence he's called "Peanut."
There's even Chinese slashfic, in which fans seek to explore a homosexual subtext within the show. Only they don't call it homosexual subtext, they call it "gay-citement."
For example: "I tore myself away from bed early this morning just to watch 90 minutes of my Curly Fu and Peanut. The gay-citement has finally returned."
And: "Sherlock tortures Watson a thousand times, and Watson loves him like his first love. I've waited two years, and it didn't disappoint me."
Sherlock returns to PBS on January 19.
See more:
Steven Moffat Conducts Interview with Benedict Cumberbatch
Top 12 Fandom-Related Viral Videos of 2013
Steven Moffat: "Why Would We Make 'Sherlock' Into A Movie?"
10 Great Benedict Cumberbatch Appearances
Read More
Filed Under: