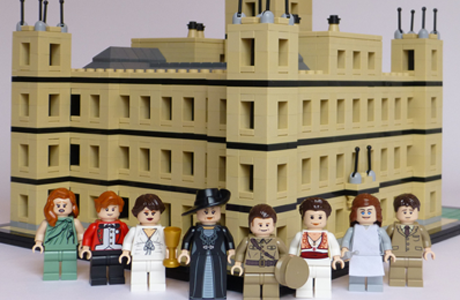 There's no scrap of news about Downton Abbey too small or too trivial to be of interest to the true fan.
With that in mind, here's a stop-the-presses bulletin on a man in Rochester, N.Y. who created Lego versions of the hit British TV drama's titular manor and its characters as a Christmas present for his girlfriend.
Block by Lego block, Eric Stevens, 24, of Rochester, N.Y. built a charming replica of Downton Abbey as a display of devotion for girlfriend, Sophia Tokar. Both are fans of the show.
He spent hours online scouring various websites to locate just the right Lego pieces and to design a computer model of Downton Abbey (really Highclere Castle in West Berkshire, England). He put the actual building process at 4 hours.
Here's a report on WXXI, a local PBS station, in which Stevens shows off and discusses his creation:
A business student at Nazareth College in Rochester, Stevens put the total cost of the project at $250, according to a story on a WROC, another local TV station.
After articles about Stevens' Downton Abbey Lego extravaganza ran in the Daily Mail online and elsewhere, the young model-builder said that he had received requests to build Lego sets replicating structures and characters on other TV shows, including HBO's Game of Thrones.
Stevens said he has no plans to try to market his Downton Abbey Lego set.
To view more photos of Stevens' creation and up-close shots of individual characters, click here.
Which Lego version of a Downton character do you think is most spot on?
See More:
'Sherlock' Fans! Watch 'The Reichenbach Fall' in Lego
WATCH: There's a Lego Movie!? Starring Liam Neeson!
Epic 400,000 Lego Brick Hogwarts Model
Read More
Filed Under: