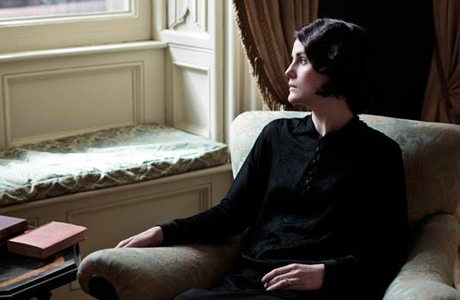 The long drought is nearly over. New episodes of Downton Abbey begin airing again on Sunday (Jan. 5) at 9 p.m. EST on PBS' Masterpiece. The hit drama's fourth season, which already aired in the U.K. on ITV this past fall, is set in the 1920s. The first episode opens six months after last year's finale in which Lady Mary Crawley (Michelle Dockery), who had just given birth to her first child, lost her husband, Matthew Crawley (Dan Stevens) in a car crash.
Downton Abbey has already been renewed for a fifth season so, while there'll be plenty of plot twists this season, don't expect too many more of the principal characters to meet untimely deaths unless the show's budget gets a major trimming.
What's going to happen this year? Will the show jump the shark? We looked into our crystal ball and foresaw the following:
Expect Lady Mary to have a hard time coping with being a widow and single mother. Never a warm sort, she had fully given her heart to Matthew and won't have an easy go of it finding a replacement. We do know, however, from pre-season publicity on casting that several possible suitors are likely to turn up.
Now that Matthew is out of the picture, it will be up to Earl of Grantham, aka Robert Crawley (Hugh Bonneville), along with Tom Branson (Allen Leech), his ex-chauffer turned widower son-in-law and estate manager, to keep Downton Abbey running as a prosperous estate. Robert's track record on this account is less than promising.
Could there be health challenges ahead for the Dowager Countess (Maggie Smith)? She's not getting any younger—in real life, Smith turned 79 on Dec. 28—and, even with all those servants at her beck and call, her life is stressful with the many daily annoyances she's forced to cope with and forever having to come up with withering quips with which to put down lesser mortals.
Lady Edith (Laura Carmichael) will continue her fledging career as a newspaper columnist but her romance with her married editor (Charles Edwards), the one with the wife in the loony bin, is likely to run into trouble. Will poor Edith continue to be ever the bridesmaid, never the bride?
We're predicting big changes downstairs at Downton Abbey as the servants discover that, in a changing post-WWI England, there are alternatives to a life in service. Daisy (Sophie McShera) likely will be the first to go, possibly taking over management of her ex father-in-law's nearby farm.
What would you like to see happen on Downton Abbey this season?
See More:
Watch: First Trailer for 'Downton Abbey' Season Four
'Downton Abbey' Gets Renewal for Fifth Season
'Downton Abbey' is Overrun by Cats in 'Downton Tabby'
'Downton Abbey' Quiz: Are You Upstairs or Downstairs?
Read More
Filed Under: