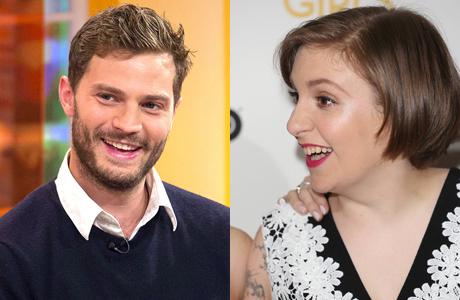 The first episode of Girls season three premiered in London at Cineworld Haymarket last night, followed by a Q&A with show creator and star Lena Dunham (and cast) who squelched some rumors and cheekily led us on a bit about possible guest stars, reports RadioTimes.com.
Apparently, people have been talking about Posh Spice, Victoria Beckham, making an appearance on the show but it doesn't seem to be happening with Dunham explaining where the rumor came from saying, "Victoria Beckham mentioned she loved the show in an interview and this has been metastasized into 'Victoria Beckham is the fifth Girl'. We love Victoria Beckham but she's a little chic for us."
Ah, that's a nice way of putting it.
This may be Dunham taking the piss but she and castmate Allison Williams (Marnie) would like Jamie Dornan to be on hand. Dornan, star of BBC's The Fall and the upcoming film 50 Shades of Grey, just "feels right" according to Williams.
Dunham steps in saying, "Allison wants Jamie. But she requested him post the casting of Fifty Shades." Well, Marnie, Allison's character, does like those artist bad boys. It sounds like the girls are just messin' about a bit but who knows? Sometimes, if you talk about something, it does happen.
We did see Richard E. Grant (Doctor Who), who coincidentally played the villain in the Spice Girls movie Spice World, play opposite fellow Brit Jemima Kirke (Jessa) in the first two episodes of season three of Girls. The two Brits sought comfort in each other while (spoiler) getting through a stint in rehab. It looks like Dunham is getting her Brit-fix this season already.
This isn't the first time Dunham has gone Brit happy tweeting about BBC's Top of the Lake earlier this year saying, "Jane Campion's Top of the Lake is the best thing on television," and gave credit to British television saying it "shaped" her having grown up watching shows like Prime Suspect, AbFab and more recently Gavin and Stacey.
You can get some more deets from the red carpet video below:
What role do you see Jamie Dornan playing on Girls?
See More: 
'Girls' Creator/Star Lena Dunham: British Television Has Shaped Me
What Are Brits Watching: 'Top of the Lake'
Jennifer Saunders: "The 'AbFab' Movie is Happening"
Read More
Filed Under: