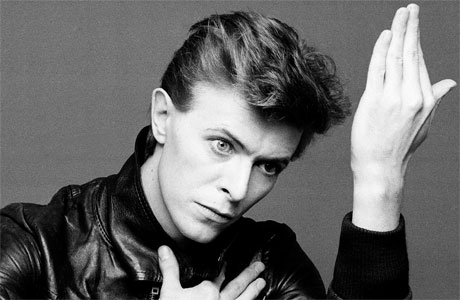 David Bowie is 67 today, which is all the excuse anyone needs to celebrate his astonishing career of twists and turns, of eternally wondrous hits you hear every day, and miraculous (space) oddities that you don't.
So, because we all already know all the chapter headings and marked paragraphs in the great man's great manuscript, here are six of his better footnotes.
"Sweet Head" (1971) 
For an album that seemed to spring out of a period of great determination and focus, there are a surprising amount of worthwhile songs that didn't quite pass the entry criterion for The Rise and Fall of Ziggy Stardust and the Spiders From Mars. Here's a great greasy ode to something unspeakable ("while you're down there," indeed), that once again proves how tough and supple a backing band the actual Spiders were.
"Remembering Marie A" (1982)
David starred in a BBC TV production of Bertolt Brecht's Baal in 1982, playing the unlikely role of an itinerant and randy musician. He also spent some time in the studio with his eternal production foil Tony Visconti, recording gussied-up versions of the five songs featured in the play for a special EP. This, however, is the beautifully unadorned, and slightly rushed tale of a near-forgotten kiss that went out on air; a narrative that deletes itself as it is told.
"Growin' Up" (1973)
Pin-Ups was conceived as a stop-gap project, a covers album in which David reinterpreted the songs of Swinging London through the neon prism of his Ziggy persona. And amid the Pink Floyd, Who and Kinks covers, David stockpiled this early Bruce Springsteen track—taken from his first album Greetings From Asbury Park, N.J.—for an abandoned collection that was intended to showcase his favorite American songs.
"Velvet Goldmine" (1971)
http://www.youtube.com/watch?feature=player_embedded&v=EfRgd9REz
As Another Ziggy outtake, and one that ended up providing a title for a particularly strange (and faintly dreadful) glam rock movie in 1998, that effectively featured Ewan McGregor as Iggy Pop. It's funny how a song about sex can also appear to be quite an honest account of how much of a musical debt David owed to Lou Reed in the early '70s. Not that Lou would have gone a bundle on that jaunty bit at the end.
"I Pray, Ole" (1979)
Wait, don't run away! It might 'boast' a particularly silly title, but this song comes from an often overlooked moment in David's still imperious '70s output, the sessions for what became Lodger. It's another of those songs where David appears to be inventing the 1980s a few years early, in particular the stadium pomp of Simple Minds.
"Born In A UFO" (2013)
http://www.youtube.com/watch?v=krUAArAAlos
As if to redeem the previous entry, this song has a fantastic title, a Springsteen gag that informs the song just enough to raise a smile, but not so much that it impedes this particular rocket's exit trajectory. You can find it on the extended version of last year's "The Next Day."
See more:
David Bowie Wishes You A Merry Christmas
20 Greatest British Songs of 2013
It's Official: David Bowie Is A Better Dresser Than Elizabeth I
Read Like Bowie, Think Like Bowie: His 100 Favorite Books
Read More
Filed Under: