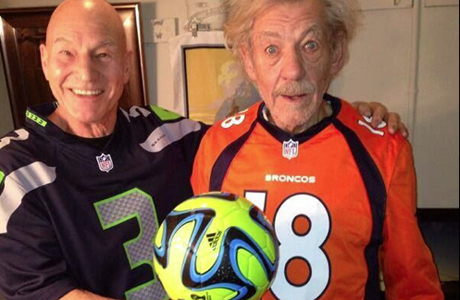 The U.S. is in a tizzy gearing up for the Super Bowl this weekend with Disney World-like festivities in NYC and the actual game taking place in New Jersey at the Metlife Stadium, which is home to the NFL's New York Jets and New York Giants. Two New York teams play out of NJ? It is a bit confusing, so we don't blame Sirs Patrick Stewart and Ian McKellen for mixing two sports, American football and football, as seen in the above snap.
Even non-sports fans get into the spirit, attending parties, eating tons and tuning into the game just for the commercials. While Brits in the U.K may not be taking part in the Super Bowl, they do have some bragging rights when it comes to some extremely clever and entertaining commercials.
Take a look at British advertising at its best here:
1. YoungDirector.com
Looks can be deceiving.
2. Marmite 
This first date goes downhill fast.
3.  Three.Co.Uk 
A Shetland pony dances to "Everywhere" by Fleetwood Mac. 
4. The Guardian and Observer Weekend
Greg made the mistake of buying the MegaGlove versus the newspaper.
http://www.youtube.com/watch?v=pLowzfZ272I
5. Somsersby Cider
People rush into the Somersby Store to try their newest cider.
6. Virgin Media's TiVo Boxset
David Tennant watches cat videos. Who knew?
7. Carling Black Label 
Just the right amount of British.
Do you have a favorite?
See More:
British Vs. American Ads: Which TV Commercials Make You Blush More?
Five Great British Rock Stars in Horrendous TV Commercials
Marmite TV Ad Results in 100s of Complaints
Read More
Filed Under: