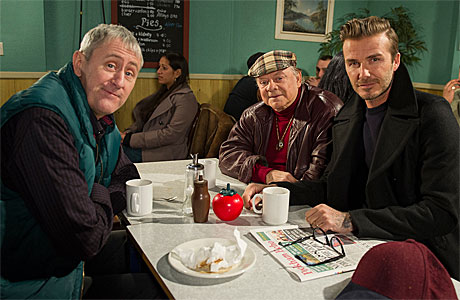 There's always a moment of disjointed thinking that comes with a photo like this. On the left, Nicholas Lyndhurst and David Jason, clearly playing Rodney and Del Boy Trotter—the characters that made them British household names in the comedy Only Fools and Horses—for the first time in ages.
On the right, David Beckham, famous footba…ah, soccer person, and paparazzi magnet. Put the two together and you have… what, exactly?
Well it's a skit from the BBC's Sport Relief charity telethon, which is on the way on March 21.
It's the first time David and Nicholas have appeared as Del Boy and Rodney in 18 years. As the show is set in the Peckham area of South London, Sport Relief are using the inspired hashtag #BeckhaminPeckham.
The first big reveal came via their Twitter feed, showing this picture of David having a chat with the Trotter boys in a cafe:
Not only is Only Fools and Horses back for #SR14 – there's a new face in town – #beckhaminpeckham pic.twitter.com/X3JIbBMJeD

— Sport Relief (@sportrelief) January 21, 2014
The announcement comes only days after the death of Roger Lloyd-Pack, who played Trigger—the biggest fool in Only Fools—although clearly this is something that's been planned for a long time.
See more:
10 Things Americans Love About Living in Britain
A Very British Christmas Part 10: Five Great TV Specials
10 British Exports That Are More Popular In The U.S.
James Buckley: Glad To Play A Role He Can Watch With His Parents
Read More
Filed Under: