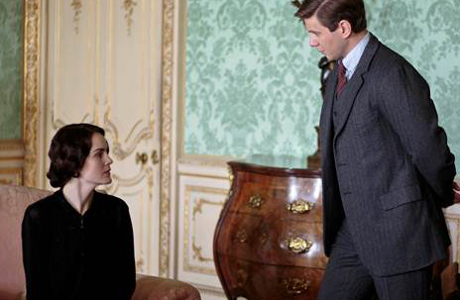 The mystery is solved! Downton Abbey returned with a 2-hour opening episode to kick off its fourth season and finally revealed that the first name of Carson (played by Jim Carter), the oh-so-proper butler and loyal Crawley family retainer, is–wait for it–Charlie. It took three long seasons but now we know.
Other than that big news, the season's introductory episode spent most its time reminding us where the characters were when last we left them and setting up various conflicts and developments that will play out over the coming months.
The show opens six months after the car crash that killed Matthew Crawley (Dan Stevens) in last year's finale. He apparently never bothered to draw up a will, leaving the question of just who's in charge at Downton in some doubt.
His grieving widow, Lady Mary (Michelle Dockery), is still very much in mourning. She's dressing in black, hiding in her bedroom and paying little attention to her infant son, George, who is Downton's new heir. "Poor little orphan," she coos to the baby during one of the rare times she holds him.
"He isn't an orphan. He's got his mother," chides Anna (Joanne Froggatt), the lady's maid to Mary.
Mary's father, Robert (Hugh Bonneville), the Earl of Grantham, is all for cosseting his eldest daughter in a protective womb. "She is broken and bruised and it is our job to wrap her up and keep her safe from the world," he says, though he may be as much motivated by self-interest as by concern for Mary since her semi-catatonic state allows him to oversee the management of Downton's estate and make all decisions on his own.
Other family members, particularly chauffer-turned-brother-in-law Tom Branson (Allen Leech) and the Dowager Countess (Maggie Smith), gently try to prod Mary into perking up and moving beyond her emotional zombiedom. In one of the show's loveliest scenes, the Dowager Countess visits Mary in her bedroom where Mary piteously confides, "I'm not sure I'm going to be a very good mother. All the softness that Matthew found in me seems to have dried up and gone away. Maybe it was never there."
Donning her concerned grandmother's cap, the Dowager Countess gently tells Mary that she has to choose either death or life. "And you think I should choose life?" aks Mary. The Dowager Countess nods and puts a comforting arm around the young widow's shoulders.
Even Carson gets into the act, telling Mary, always his favorite of the Crawley daughters, that she needs to snap out of it. She is initially offended and tells him that he has overstepped the line but eventually comes round. "I know I've spent too long in the land of the dead," she tells him, and then breaks into heaving sobs as he holds her.
"You have a good cry," he says consolingly. Then, as she dries her tears, Carson gives her a pep talk, telling Mary that she's strong enough to oversee the running of the estate. "Don't you owe it to Mr. Crawley to fight for Downton, to make the changes that are needed?" asks Carter.
Well into the second half of the show, we learn that Matthew indeed did make out a sort of will after all.  This is discovered when a box of his possessions are sent over to Downtown Abbey from his law office. As Robert opens the box, out tumbles a piece of paper from a book. It's a letter that Matthew wrote to Mary just before the whole family visited Scotland shortly before his death. In it, he says he fully intends to draw up a will naming her as his sole heir. Huzzah!
Robert, after some harrumphing and a good scolding from the Dowager Countess ("I'm tempted to ring for Nanny and have you put to bed with no supper"), has his lawyer review the letter. The lawyer rules that the document is as good as a will. Mary now owns half of Downton.
Tom, who is serving as estate manager, accompanies Mary on a tour of the property. Clearly, these two will be joining forces against Robert. Hanging over the whole episode has been the question of how to pay the death taxes owed for Matthew. Robert favors selling off some of Downton's land to pay the bill all at once while Tom leans toward alternative remedies. At the end of the episode, Mary announces that she's opposed to selling the land. Robert looks mighty unhappy.
In other developments:
Scheming Sarah O'Brien, the sourpuss lady's maid who worked for Lady Cora (Elizabeth McGovern), departs at the very beginning of the episode. (Actress Siobhan Finneran, who played O'Brien, wanted off the series.) Ads are placed in the town for a replacement and Edna Braithtwaite (MyAnna Buring), who earlier worked at Downton Abbey as a housemaid, gets the job. She's the conniving gal who put the moves on the newly-widowed Tom late in the third season and, clearly, is a pea from the same evil pod as O'Brien. By the end of the episode, she and Thomas Barrow (Rob James-Collier), the unscrupulous footman, have already formed a nefarious cabal.
To Thomas's credit, he did recognize that Nanny West (Di Botcher), the caretaker of the grandchildren, is playing favorites. She coos over baby George while mistreating little Sybil–"You wicked little crossbreed," she hisses at the child–the daughter of the late Lady Sybil and ex-chauffer Tom. Thomas tattles on Nanny to Cora who, upon witnessing Nanny West's abuse for herself, fires the witch immediately.
Lady Edith (Laura Carmichael) continues to travel to London every chance she gets to make goo-goo eyes at her publisher, Michael Gregson (Charles Edwards). For once, one of Edith's beaus is actually equally smitten with her. Michael concocts a plan to move to Germany and establish German citizenship so that he can then divorce his crazy wife–she's in the loony bin–and wed Edith. Edith seems to think this is a swell idea. ("He's not bad looking and he's still alive, which puts him two points ahead of most men of our generation," observes Mary of her younger sister's inamorata.)
John Bates (Brendan Coyle) and Anna Bates, the valet and lady's maid who wed last season, continue to be all lovey-dovey with each other. To please his wife, Bates even manages to come up with a scheme to get Joseph Molesley (Kevin Doyle), Matthew's now unemployed and morose ex-valet, to accept a cash handout in the guise of payback for a non-existent loan.
Mrs. Hughes (Phyllis Logan) gooses Isobel Crawley (Penelope Wilton), Matthew's mother, out of her mourning and back to becoming her normal overbearing, over-charitable self. Downton's housekeeper does this by talking Isobel into helping to care of an elderly gent who is a long ago, former show biz associate of Carson's. Carson turns his back on the old mate until the very end of the episode, when Isobel and Mrs. Hughes reunite the two men. It seems that a woman drove the two apart many years ago. The associate tells Carson that the woman, now dead, always regretted choosing him over Carson and knew that Carson was the better man. This makes Carson happy and he shakes the man's hand before the fellow departs forever. (This plot was pretty much a total timewaster.)
Lady Rose MacClare (Lilly James), the flighty young teenage relative who has taken up residence at Downton Abbey while her parents are off in India, talks Anna into accompanying her to a commoner's dance in nearby York. Masquerading as a servant, Rose happily dances with a young gardener's assistant, who falls for her hard. When he later turns up at Downton to pay her court, Rose quickly dons a maid's outfit and lets him down easy. Obviously, this is only the first of many quasi-comic scrapes she'll get into this season.
Finally, Daisy Mason (Sophie McShera) and Mrs. Patmore (Lesley Nicol) take possession of a new electric mixer and it throws them into a tizzy. Daisy masters the device, using it to whip up a tasty mousse, but Mrs. Patmore proves more technologically-challenged. Are we now to expect an entire season of being introduced to new-fangled modern kitchen appliances, one after another?
What was your favorite part of the episode?
See More:
'Downton Abbey' Season Three Recaps 
'Downton Abbey' Gets Renewal for Fifth Season
'Downton Abbey' Quiz: Are You Upstairs or Downstairs?
Read More
Filed Under: