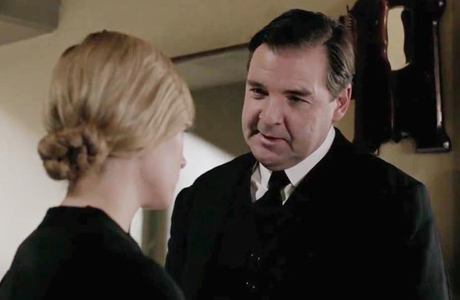 The battle between Mrs. Patmore (Lesley Nicol) and modern conveniences continues.
Earlier this season, the head cook at Downton Abbey raged against the machine when an electric mixer was introduced into her kitchen. In the latest episode, she expresses anxiety over an electric sewing machine ("I don't think it has any place in the servant's hall!") and a refrigerator.
When Cora (Elizabeth McGovern), the mistress of Downton Abbey, raises the possibility of replacing the icebox with a fridge, Mrs. Patmore shows obvious reluctance. "Is there any aspect of the present day that you can accept without resistance?" Cora asks in polite frustration. Mrs. Patmore takes the rhetorical question seriously. "I wouldn't mind getting rid of my corset," she confides.
Mrs. Patmore's Luddism served as comedy relief in between the grim goings of the continuing fallout after the rape of lady's maid Anna Bates (Joanne Froggatt). She is still hiding the truth from her husband, valet John Bates (Brendan Coyle), who wrongly concludes after she moves out of their cottage that she no longer loves him.
Housekeeper Mrs. Hughes (Phyllis Logan), who is really coming into her own this season, remains the only one who knows about the rape. She pleads with Anna to tell Bates what really happened, especially now that—all praise to writer Julian Fellowes for not going there—Anna knows she isn't pregnant. Anna says she can't, again expressing her fear that Bates would murder her attacker and be sent to the gallows. (Anna was raped by Green, a valet who stayed at Downton briefly while his aristocratic employer was a houseguest at a weekend-long party.) "Well, it's your secret and your future but I think it's a mistake," says Mrs. Hughes. Cut to Bates, who's lurking in a hallway just outside and has overheard the last bit.
He confronts Mrs. Hughes, saying that if Anna doesn't love him anymore, he'll hand in his resignation and depart Downton Abbey forever. The housekeeper caves, telling him about the rape but claiming that the perpetrator was an unknown intruder. Bates, who correctly suspects Green of the crime, makes Mrs. Hughes swear on her mother's grave that she's telling the truth. She does so (though doubtless with her fingers crossed behind her back).
Bates seeks out Anna to tell her that he knows about the rape. "If it's the valet, he's a dead man," he says. Anna sticks to the a-stranger-did-it lie and says she didn't tell him about being raped because she felt ashamed and soiled. Bates is having none of it. "You are my wife and I have never loved you more or been prouder of you than I am at this moment," he says. She melts into his embrace and has a good cry.
A now happier Anna tells Mrs. Hughes she's moving back into the cottage with Bates, that it's okay that the housekeeper told him what happened and that Bates seems to believe the stranger danger fabrication. "Oh, I'm so pleased. At least if I'm damned for all eternity, it was for some purpose," says Mrs. Hughes of Anna's return to the cottage, though she adds that she hates to think of Green getting away with his crime.
It's unlikely that Green will go unpunished. Later that night, Bates tells Mrs. Hughes that he only told Anna that he believed the unknown intruder tale because he didn't want to add to her troubles.  "Be aware," he warns Mrs. Hughes, "nothing is over. Nothing is done with." Ominous music plays as, in the episode's final scene, Bates limps down the hallway, a man determined to avenge his beloved.
In other developments during the episode:
Lady Edith (Laura Carmichael), seemingly ever unlucky in love, hasn't heard a peep from Michael Gregson, her publisher beau, since he moved to Germany to establish residency so that he can divorce his institutionalized, nut job wife. Edith travels solo to London and is glimpsed making a furtive visit to a doctor's office. Here's betting that she's preggers, thanks to the one nighter she had with Michael before he skipped town.
Her widowed older sister, Lady Mary (Michelle Dockery), may have yet another new beau. It's the aristocratic and unfortunately named Evelyn Napier (Brendan Patricks), last seen early in Season 1 when he brought along to a house party at Downton Abbey his chum, Kemal Pamuk, the Turkish hottie who then inconveniently died while in bed with Mary. Evelyn is in the nabe conducting a government study on why so many grand estates are failing. "You'll be glad to know that Downton is not among them," he reassures the Crawleys. Mary and Cora insist that he and his supervisor bunk at Downton while conducting their study. "That way we'll get all of your knowledge for the price of a few dinners," says Mary.
Tom Branson (Allan Leech), the ex-chauffer turned widowed son-in-law, suddenly announces that he's considering moving to America with his daughter, little Sybie. "Wouldn't it be easier for her to begin with a clean slate rather than being the daughter of an uppity chauffer?" he asks. Robert, Lord Grantham (Hugh Bonneville) tells Tom not to make any hasty decisions while Mary, with whom Tom has developed a deep friendship, says, "We don't want to lose you."
A great many scenes are devoted to a seemingly biding time subplot involving the Downton estate, with Robert, Mary and Tom weighing the pros and cons of extending the lease on a patch of Downton land to Tim Drewe (Andrew Scarborough), a seemingly upstanding man whose father, a longtime Downton tenant farmer, has died while still owing the estate money. Robert secretly lends £50 to Drewe to cover the unpaid debt and persuades Mary and Tom that allowing Drewe to continue in "partnership" with the family is the right thing to do. "If we don't respect our past, we'll find it harder to build our future," Robert lectures.
Alfred Nugent (Matt Milne), the footman with ambitions to be a cook, heads to London for a cooking test at the Ritz hotel and a possible job there. Fellow footman Jimmy Kent (Ed Speleers) mocks him relentlessly for wanting to be a chef but kitchen maids Ivy Stuart (Cara Theobold) and the still lovelorn Daisy Mason (Sophie McShera) are impressed with his initiative and drive. Despite mastering making vichyssoise, Alfred misses out on making the cut at the Ritz. "You just have to stick at it and you will," encourages a kindly Carson (Jim Carter), who earlier had been aghast at Alfred's possible occupational switch.
Thomas Barrow (Rob James-Collier), the scheming under butler (or whatever his current position is), has brought in a confederate, Baxter (Raquel Cassidy), to serve as the new lady's maid for Cora. She seems nice enough though she's harboring an as yet unrevealed secret that somehow means she must do Thomas' bidding. He urges her to ingratiate herself in with both the family and the staff. "There's going to be changes at Downton. So I want to know any plans upstairs. Any detail, no matter how small. Understand?" he tells her, practically twirling an imaginary mustache. "Just get them all to trust you and tell you everything."
And no episode would be complete without a few zingers from Violet Crawley, the Dowager Countess (Maggie Smith). She and do-gooder Isobel Crawley (Penelope Wilton) continue to go at each other with hammer and tongs, though clearly they're each fonder of the other than either will admit. After Isobel cajoles Violet into hiring an unemployed young local, John Pegg (Joncie Elmore), as an assistant gardener, Violet snipes, "I wonder that your halo doesn't grow heavy. It must be like wearing a tiara around the clock."
Later, Violet suspects Pegg of having stolen a letter opener in her study that has gone missing after he was in there watering plants. "It was a valuable paper knife given to the late Lord Grantham by the King of Sweden," she huffs to Isobel. Isobel plumps for Pegg's probity, saying she can't believe he'd do such a thing. The crime remains unsolved for now. Here's hoping the Dowager will make like Miss Marple in a future episode.
What was your favorite part of the episode?
Read More
Filed Under: