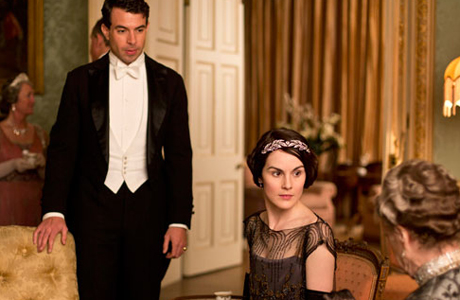 It's party time at Downton Abbey. What the show's opening episode a week ago lacked in energy and juicy plot developments, this latest episode, which centers on a weekend long house party at the show's titular British estate, more than made up for.
Lord Robert Crawley (Hugh Bonneville) and Lady Cora (Elizabeth McGovern) invited 16 fellow titled and upper class guests to Downton Abbey for a weekend of refined revelry. The Crawley clan and the invitees dined, drank, danced, played cards and listened to a private concert recital by legendary diva Nellie Melba (the legendary Aussie soprano was played by New Zealand-born opera star Kiri Te Kanawa). All these guests had Downton's downstairs staff hopping to see to it that everyone was happy and well fed.
The big news of the episode was that Lady Mary Crawley (Michelle Dockery), though still grieving for dead hubby Matthew, has a possible new beau. He's Anthony Foyle (Tom Cullen, of the World Without End mini-series), aka Lord Gillingham, a seemingly sympathetic fellow aristo whose father has died recently and whose family has come upon semi-hard times (they've sold the big house and moved to the dower house). Early on, he tells Mary that he is on the verge of becoming betrothed to an heiress about whom he seems only lukewarm.
It isn't Lord Gillingham's first visit to Downton. Tony (as Mary and everyone else soon is calling him) was there years ago, when his father, a pal to Robert, was still alive. "I remember a very superior young man who found three little girls rather tiresome to deal with," Mary tells him.
Over the course of the house party weekend, he becomes increasingly smitten with Mary, going riding with her, advising her on how to confront the death taxes problem, and listening sympathetically as she gabs about her dead husband. "Matthew changed me. I loved him but he changed me. If I were as tough as I was before I met him, I bet I'd be happier now," she tells Anthony.
At the end of the weekend, it's clear that Tony and Mary will likely be seeing more of each other. This pleases Robert, who has been watching the budding courtship with an approving eye. The only one obviously unhappy about the potential romance is Isobel Crawley (Penelope Wilton), Matthew's mother, who's still mourning her dead son in a big way.
The other major development of the episode is a tragic one, which likely will have ramifications throughout the season. Tony's valet, Green (Nigel Harman), who accompanied his employer to the house party, flirts shamelessly with Downton lady's maid Anna (Joanne Froggatt). Her husband, valet John Bates (Brendan Coyle), mutters under his breath, "There's something about him that gets my goat."
Bates is right to dislike Green. Near the end of the episode, while the Crawleys, their guests and the servants are all upstairs raptly listening to Dame Melba warble away, Anna heads downstairs to take medication for a headache. Green follows her and, after she rebuffs his sexual advances, slugs her and rapes her.
Mrs. Hughes (Phyllis Logan) is the one to discover Anna, who's bleeding, crying and cowering in a corner. Anna begs the kindly housekeeper not to summon a doctor or say anything to Bates for fear that the valet, who spent much of last season in jail while falsely accused of murdering his estranged first wife, will retaliate and be packed off to prison again or, worse, swing from a rope. "No one must ever know," Anna pleads. "Will you promise me?" Reluctantly, Mrs. Hughes agrees to keep silent.
When Bates comes to collect Anna so that they can walk home to their cottage, she explains away her bruises and change of clothing by telling him that she fainted. Then, as tears overtake her, she brushes off his attempt to hold her hand and steps out ahead of him into the night, a tragic figure.
In other storylines:
Lady Cora finally came to life after spending the entire first episode just making sympathetic cooing noises and otherwise fading into the background. Showing off her native Yankee gumption, she upbraids her snooty British husband for his reluctance to have Dame Melba, a mere singer, dine alongside the other guests. "Am I the only member of the family who lives in the 20th century?" Cora bristles. "You will have her next to you at dinner and you will like it!" (Once Robert discovers that Melba recognizes and appreciates the fancy claret he is serving, they get along famously.)
Second Crawley daughter Edith's romance with her publisher, Charles (Michael Gregson), proceeds apace. Lady Edith (Laura Carmichael) wants her father to become chummy with Charles over the weekend but Robert keeps begging off spending time with Edith's beau, offering one excuse after another.
Charles, however, is finally able to distinguish himself in Robert's eyes. Edith's suitor does this by figuring out that one of the weekend's guests, the unscrupulous Terence Sampson (Patrick Kennedy), is fleecing the other guests (including Robert) at cards, cheating them out of piles of cash. Charles employs a little card sharpery of his own, winning back from Sampson the other men's losses and more. "I just revived a dubious talent from my youth," Charles tells Edith with a twinkle in his eye.
After Charles has discreetly returned to Robert the money that Downton's patriarch lost earlier at the gaming tables, a pleased Robert tells Cora, "I'm not sure [Charles] is what we want for Edith but it's a changing world and, I must admit, he's a decent cove [Brit slang for a chap]. He did behave in a way I really thought was quite gentlemanly."
Tom Branson (Allen Leech), the ex-chauffer-turned-widower son-in-law, encounters rough social sledding during the house party. He is more conscious than ever of the yawning gulf between his own humble Irish roots and the Crawley's upper class British ways. "I don't belong here and these past few days have showed me that," he tells Robert, who assures him that he does indeed belong.
Calculating Edna Braithwaite (MyAnna Buring), Cora's new lady's maid who had made a pass at Tom last season during her earlier tour of duty at Downton, encourages his feelings of social unease. As the episode ends, she appears to sneak into his bedroom for a late-night assignation though the camera cuts away before viewers can see exactly who is inside the room and what sort of reception Edna receives.
Mrs. Patmore (Lesley Nicol), the cook, collapses with an anxiety attack just before the big dinner. Footman Alfred Nugent (Matt Milne) comes to the rescue, stepping in to help finish the meal. He later confesses to a recovered Mrs. Patmore that what he really wants to do in life is man the pots and pans.
Mr. Carson (Jim Carter) is on his high horse for most of the weekend, upset at the paltry staff that accompanied the visiting aristocrats ("Not quite like before the war, is it?" he harrumphs). He also agrees with Robert that Dame Melba should eat off a dinner tray in her room rather than dine with her betters and looks askance when Alfred volunteers to help cook ("What a topsy-turvy world we've come to," Carson says). In the butler's favor, he helps out Matthew's ex valet, Joseph Moseley (Kevin Doyle), giving him temporary employment as a footman for the weekend after Jimmy Kent (Ed Speleers) injures his wrist while horsing around in the kitchen.
And Violet Crawley, the Dowager Countess (Maggie Smith)? She was in fine form for the entire episode, beginning with her whispering to Robert after watching Tom's pathetic attempts at mingling, "I'm afraid Tom's small talk is very small indeed."
She showed her kind side when she paid a call on Isobel to persuade the mourning mother to attend Dame Melba's concert rather than just stay home and wallow in her grief. But before fans can get too worried that Violet is going all soft and gooey, she snaps back to her usual snappish self.
"You can always count on Puccini," she whispers to Isobel as Dame Melba launches into an aria by the then still living Italian opera composer. (He died in 1924.)
"I prefer Bartok," sniffs Isobel, name-checking Béla Bartok and marking herself as a modernist for admiring the Hungarian composer, who was in the early days of his career back in 1922.
"You would," fires back the Dowager.
What was your favorite part of the episode?
Read More
Filed Under: