This week, Peter Capaldi's interview with Doctor Who magazine has dominated all conversations about the future of the show. He has revealed that there's a big shift on the way, and that the Doctor will no longer be considered to be boyfriend material, partly because of the clear, physical age difference between him and Clara, and partly because his Doctor will be no one's idea of a nice, safe romantic traveling companion.
He explained: "The last two Doctors have been 'your boyfriend' Doctors. It was time for the show to flip around. The new version of the show is quite old now.
"We're going to give Clara a Doctor who is a much older, fiercer, madder, less reliable Doctor who leads her a merry dance."
And let's face it, she must've still been fairly giddy from the last waltz of the Eleventh.
Peter also had a chance to talk about his deep love of Doctor Who since he was a child, saying: "I don't remember Doctor Who not being part of my life, and it became a part of growing up, along with the Beatles, National Health spectacles, and fog. And it runs deep. It's in my DNA."
He continued:  "It may surprise you now, but something like [First Doctor adventure] "The Web Planet" lived powerfully and expansively in my head for decades… until the DVDs came along and spoiled the party. But I'm glad to say that the Menoptra eventually flitted back into my dreams, where they belong."
And while we're with the great man, did you see this picture of young Peter, at around the age he would have been when he started watching Doctor Who?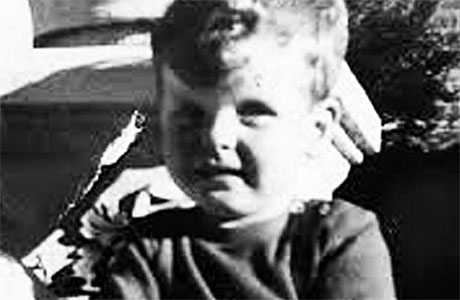 He (and several other British celebrities) allowed the children's charity Barnardo's access to pictures and memories from his childhood in order to promote fostering..
Here's what else is going on in space and time this week:
• An interview with Steven Moffat in which he says (about the potential return of River Song): "I'm slightly tempted, because I imagine Peter Capaldi and Alex Kingston would be absolutely hilarious together."
• John Simm has signed up for what will undoubtedly be a (cough) masterful performance in BBCAMERICA's new paranormal drama Intruders. He'll play a writer, whose past as an LA cop comes back to haunt him when his wife disappears.
• Matt Smith has been shortlisted in the drama performance category, and Doctor Who in the drama category, at this year's National Television Awards.
• A look back at Doctor Who's 50th anniversary year, via DoctorWho.TV.
• 25 actors What Culture would like to be the Doctor.
• Y'know how we love our fake Doctor Who credit sequences. This one, for "The Day of the Doctor" is a DOOZY:
• If you're using the Sonic Screwdriver app on your iOS device, you might like to know it has been updated to include the War Doctor's sonic. Just in case of a sudden outbreak of the Time War in your immediate vicinity.
• Sherlock star Benedict Cumberbatch is looking forward to seeing the next Doctor strut his stuff: "I'm very excited to see him in Doctor Who. He is a class act, Peter, and a great actor."
• Five ways the Doctor messed with his own timeline in "The Day of the Doctor."
• Let's go out with a song, shall we? About three years ago, a budding songwriter called Adam WarRock had never seen Doctor Who, and wrote a hip hop song about this fact. It became very popular, forcing him to reconsider and take in some Time Lord action.
Now he's back, and he's become such a fan that he's released a new song from the perspective of a total fanboy.
That's basically how we get everyone…
TTFN!
Read More
Filed Under: