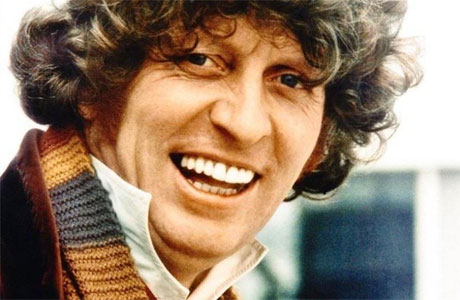 This week (January 20, in fact), we celebrate the life of the oldest surviving Doctor, and also one of the most popular actors ever to take on the role. Tom Baker may have first flown the TARDIS back in 1974, but his trademark scarf and floppy hat are still the first items of clothing most people go to when they want to dress up as the Doctor.
He's still the longest-serving Doctor in real years (those 900 years on Trenzalore don't count), and while subsequent actors have mentioned personal favorites from the series—Matt Smith is a big fan of Patrick Troughton, for example—it's the Fourth Doctor that they have to try and best in order to fully seize the console of the TARDIS in fans imaginations. He even won our own 50th anniversary poll last year.
And of course, it's hard to imagine a proper celebration of 50 years of Doctor Who without him having been involved:
So it's only fair that we should do likewise on his birthday, eh?
Here's a recent interview he gave about playing the Fourth Doctor.
And here's his appearance in 2000's This Is Your Life:
And a personal favorite moment, just after the Fourth Doctor's regeneration in "Robot," with the Brigadier and Sarah Jane and Harry:
Here's what else has been going on in space and time this week:
• There are fresh Doctor Who comics on the way! Titan Comics is drawing up new adventures for the Tenth, Eleventh and (eventually) Twelfth Doctors, and they'll be arriving later this year.
• The Second Doctor adventure "The Moonbase" has been animated and given a DVD release. It's only the second time the Doctor met the Cybermen, after they caused him to regenerate in "The Tenth Planet." Here's a clip:
• What Culture's six best monsters since the Doctor Who revival.
• This is not Peter Capaldi's Doctor costume. It's his costume for his role as Cardinal Richelieu in the BBC's new retelling of The Musketeers.
And it was during the filming of this swashbucking epic that Peter dislocated his own thumb on a dress.
Speaking of Peter and costumes, have you seen his Doctor Who regeneration action figurine? Coming soon!
• We're suckers for a decent pretend opening sequence, and this is a doozy:
• If you were wondering how exactly the Doctor spent those 900 years defending Trenzalore, and against what, you'll be pleased to note that his adventures in one space and one time have been collected in Tales of Trenzalore, a new e-Book from BBC Books.
• And if you get through that in a hurry, why not try Jenny T. Colgan's Into The Nowhere, a tale of an erased planet, the Eleventh Doctor, and Clara.
• An excellent YouTube listicle of the ten greatest surprise cameos in Doctor Who (and related spin-off series):
http://www.youtube.com/watch?v=qEJu-GRlRMU
• What Culture's 12 Best Speeches of NuWho.
• Last week we heard the sad news that Roger Lloyd-Pack, famous to Whovians as John Lumic, the man who brought the Cybermen back to the relaunched Doctor Who, has died. Here are five of his greatest roles.
This is very cute indeed, from Alicia MB's Tumblr:
Let's end with something a bit wibbley, a bit wobbley, quite possibly a smidge timey-wimey. This, being the Eleventh Doctor's regeneration played backwards, has no business working as well as it does. And yet somehow, it's rather lovely:
TTFN! Or should that be NFTT?
Read More
Filed Under: