Yesterday, the Twelfth Doctor's new outfit was revealed, and it's very swish indeed. A navy, black and red affair with a crisp white shirt and the most extravagant cuffs on a Doctor since the heady days of the dandy Jon Pertwee.
But the real break with tradition can be found at the end of Peter Capaldi's legs. Take a close look at those shoes. Not just spit-shined leather boots with a Doctor Martens-style air-wear sole, but brogues too!
The Doctor Martens sole is an especially nice touch, given Peter's punk past (he was in a punk band with Craig Ferguson, after all), and the Doctor's timeless appeal. No Victorian lace-ups or riding boots, a stout pair of DMs are a glimpse of the more recent past, perfectly suitable to kick a Dalek's plunger off, with the shine a nod to the Doctor's vanity, and the brogues a more distant echo of the early 20th Century.
Or as Peter put it, when describing the whole ensemble: "He's woven the future from the cloth of the past. Simple, stark and back to basics. No frills, no scarf, no messing, just 100 per cent Rebel Time Lord."
Update: according to the Doctor Who Twitter feed, the boots are actually made by Loake:
The new boots worn by the Doctor are not Dr. Martens as our expert costume department believed they were but he may wear them in the future.

— Doctor Who Official (@bbcdoctorwho) January 31, 2014
Here's the entire ensemble again: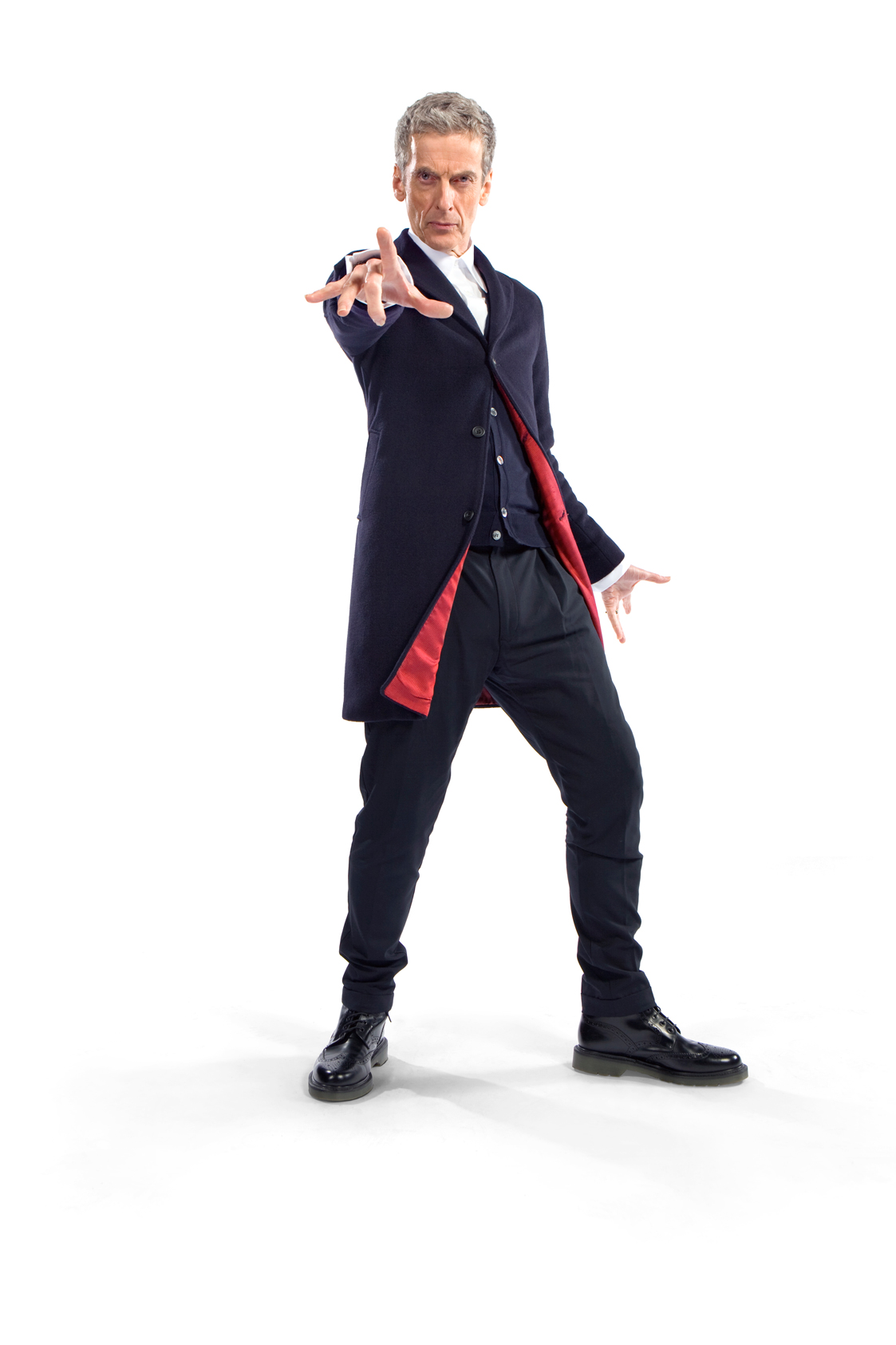 Steven Moffat added: "Monsters of the universe, the vacation is over – Capaldi is suited and booted and coming to get you!"
With the emphasis on "booted," natch.
Here's what else has been going on in space and time this week:
• Doctor Who won best drama at the National Television Awards, and Matt Smith won best drama performance. Here's Jenna Coleman's acceptance speech on behalf of the show:
• Although Matt wasn't able to accept his trophy because of his current run in the West End musical, American Psycho, he was able to make a video thanking all those who voted for him:
• These are great. Doctor heads with catchphrases attached, by the artist Agnitti:
• Tumblr user hinoneko made this cute comic of the First Doctor and Vicki:
• Here are 25 actors WhatCulture thinks would make great companions.
• Tumblr user tirildahl created their own Doctor Who board game – take a look:
• The science and mysteries of Doctor Who is headed to the live stages of Australia.
• Wait, remember that one time Sesame Street's Cookie Monster and Grover were the Doctor and Amy and faced a Dalek?
• Christopher Eccleston is set to star in Sky Atlantic's upcoming Fortitude, alongside Stanley Tucci, Michael Gambon, and Sophie Grabol.
• Doctor Who's "Dark Eyes" audio series won the Best Online or Non-Broadcast Audio Drama prize at the BBC Audio awards.
• Steven Moffat speaks kind words about the Fourth Doctor, in tribute to Tom Baker's 80th birthday:
• Hypable is having their second annual Doctor Who BattleShips and are currently in the knockout round with Amy/Rory in the lead for OTP. Go cast your votes and either keep them in, or try to knock them out of the running here.
• The Grammys were held Sunday night (January 26) in Los Angeles, and the lady of the evening was Lorde, the 17-year-old New Zealand-born singer-songwriter who became a chart-topper last fall with "Royals."
Well, about 30 seconds into her performance, an image appeared onstage behind her that struck fear into the heart(s) of every Whovian watching:
https://www.youtube.com/watch?v=yDNCx81xDoI
The reaction was swift on Twitter:
Don't blink. There's a Weeping Angel behind @lordemusic. #DoctorWho #grammys

— anglophenia (@anglophenia) January 27, 2014
Don't anyone tell Lorde, but there's a Weeping Angel standing RIGHT BEHIND HER. #Grammys

— Hollywood Reporter (@THR) January 27, 2014
I am in love with Lorde's performance but I was afraid to blink because she brought a weeping angel to the Grammys!! pic.twitter.com/S2eiRkCsIo

— Angelie Valdez (@crazyangelie) January 27, 2014
Lorde Revealed to Be Weeping Angel at 2014 #Grammys (don't blink)

— SPIN (@SPINmagazine) January 27, 2014
• Let's go out with something musical from the vaults, and an arcane connection between the current Doctor and one of his previous incarnations. It's just in time for another 50th anniversary, that of the Beatles' first appearance on Ed Sullivan in 1964.
This is a very young Peter Capaldi playing George Harrison in the 1985 NBC-TV drama "John and Yoko: A Love Story," alongside Mark McGann as John Lennon. Mark of course being the brother of Paul. 
Talk about time travel!
TTFN!
Read More
Filed Under: