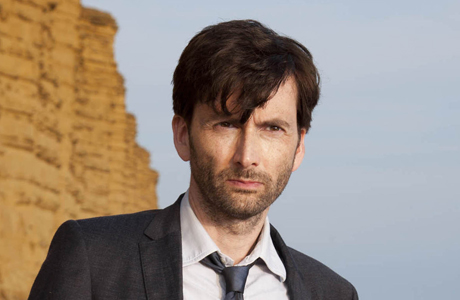 David Tennant the actor is doing just fine, gearing up for the American version of the ITV series Broadchurch. But, his Broadchurch character, Detective Inspector Alec Hardy, wasn't doing so hot when we last saw him in the final episode of season one.
Tennant expressed concern over whether or not his character would be returning for the second series of the murder mystery based in the fictional coastal town of Broadchurch, England. While D.I. Hardy is one of the lead characters, his health is failing and Tennant couldn't imagine how Hardy could take on detective work.
We figured that was Tennant just playing around and teasing us a bit.
Oh no, we may have figured wrong.
The Radio Times caught up with Broadchurch writer and creator Chris Chibnall who said, "He's right to be worried. He's a king on the stage, he's off doing an American show right now, I believe. He's got a lot on his plate."
"He's right to be worried?" Whut!
Well, Chris, can't he star in Richard II, film the American version of Broadchurch, and come back?
We want to give you fair warning that what Chibnall is about to say could be considered a spoiler alert (but not really).
Chibnall went on to say, "David's very busy and Alec Hardy, at the end of series one, he was fired from the police, he had a heart problem – I don't see how you come back. How would that happen?"
Will D.I. Hardy make a recovery and go back to work? 
See More: 
Round-Up: Catching Up with 'Broadchurch' 
'Broadchurch' Season One Recaps
Longing for More 'Broadchurch'? Here Are Extra Scenes
Read More
Filed Under: