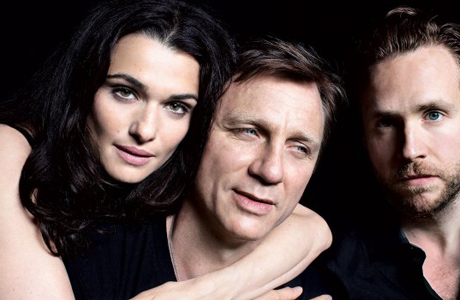 Real-life married couple Daniel Craig (Skyfall) and Rachel Weisz (The Bourne Legacy) stepped onto the Broadway stage in Harold Pinter's Betrayal, which was inspired by Pinter's seven-year extramarital affair.
The play opened on October 1 at the Barrymore Theatre, with a limited run of fourteen weeks, setting a record high, being the highest-grossing non-musical in a single week, earning $1.44 million over the holiday week, ending December 29, reports BBC News.
Even so, Betrayal was 2013's second biggest Broadway hit, bringing in $17.5m total, coming in behind Nora Ephron's Lucky Guy starring Tom Hanks, which brought in $23m.
The thing is, it really isn't "apples to apples" since Lucky Guy ran four weeks longer than Betrayal and had 100 plus more seats in its theater. At the end of the day, it's not a competition … it's nice that both plays did well and Broadway is getting its legs back after some wobbly times.
While not a pretty picture—Betrayal depicts a married couple with each partner taking part in a secret romantic affair—the play itself is a huge draw, having been produced on-stage numerous times with the original line-up starring Penelope Wilton, Michael Gamdon and Daniel Massey at the National Theatre in London, during 1978 and the original Broadway production starring Blythe Danner, Raul Julia and Roy Scheider at the Trafalgar Theatre in NYC, during 1980. The story was made into a film adaptation starring Jeremy Irons, Ben Kingsley and Patricia Hodges in 1983. There have been revivals since, starring Juliette Binoche, Liev Schrieber and John Slattery (2000) and Kristin Scott Thomas (2011).
With all that said, we have an itchy feeling audience members were keen to see Craig and Weisz in all their marriedness up on stage, in "real life."
What do you think was the secret to this success? 
See More:
Rachel Weisz Surprised at Her U.S. Awards Season 
Daniel Craig, Rachel Weisz Follow Tradition of Reel-to-Real Romance
'Skyfall' Finally Starts to Pick Up Some Awards Love …
Read More
Filed Under: