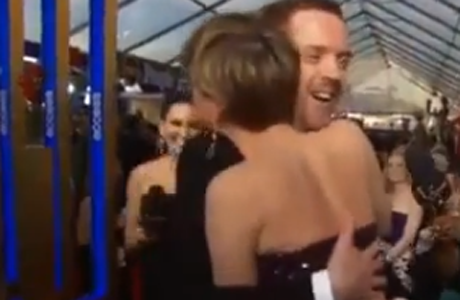 American Hustle actress Jennifer Lawrence was visibly nervous right before meeting Homeland actor Damian Lewis at the Screen Actors Guild Awards show. It's not that she was starstruck but more in awe of his character Nicholas Brody. Well, maybe a mix of both?
Lawrence told Access Hollywood reporter Shaun Robinson, "I'm freaking out a little bit. That is Brody. I have never met Brody before. I can't look. Don't look."
Lawrence is a big fan of the show, letting us in on the fact that she's watched season one and two of Homeland, twice. It's funny how Lawrence calls the British actor by his character's name. Actors sometimes complain that fans can't separate life from fiction. In this case, we'll give Lawrence the benefit of the doubt that she was just playing around.
When Lewis finally turns his attention to the young actress, she turns and faces the wall, grips it, and sort of tries to hide there. It's one of those instances of, "If I can't see you, you can't see me."
While still holding onto the wall for dear life, Lawrence turns and yells over her shoulder to "Brody" saying, "It's my favorite show ever."
Lewis, in a little disbelief, says, "Really?" Once it clicks, he moves toward her offering her a "cuddle" to try and calm her nerves.
If you haven't seen the ending for Homeland, please stop reading here, because things are about to get weird.
While Lawrence and Lewis were exchanging pleasantries, the other Access Hollywood correspondent, Laura Saltman, yelped out, "Are you upset that he died!"
Wait, what? Did she just say what we think she said?
Luckily, Lawrence didn't seem to hear her. Or, at least, it didn't register because she was laughing and soaking everything in. Phew, that could have been bad.
Oh wait, here comes Robinson and she has something to say. What could it be? Maybe something about Lawrence's recent Oscar nomination for American Hustle? Or, the fact that if she wins she'll be the youngest actress ever to have two Oscar wins? Nope. Robinson goes for the gullet and makes sure Lawrence gets an earful, repeatedly saying, "They killed him off on the show!! They killed him off!"
In a matter of seconds, Lawrence goes from being an Oscar-winning actress (Silver Linings Playbook), having an amazing day and meeting an idol, to a fan, just like us, who just heard some really terrible news.
Lewis tries to save the situation by yelling past the Access Hollywood correspondents, "No, they haven't. They haven't," like it was all a bad joke.
It was too late and the damage was done. Lawrence tries to maintain her composure, but is obviously gutted, saying to Robinson, "I can't even look at you."
At this point, Lewis is off camera but we hear him asking Lawrence, "Are you okay?"
You can witness the whole spoiler fiasco below and Lawrence's reaction (warning: it's painful to watch):
What would you have done if that was you?
See More:
'12 Years a Slave,' 'American Hustle' Rule Golden Globes
The BAFTA Film Awards Red Carpet: Frocks and Fellas
10 Things to Look Forward to in 2014 (Damian Lewis is one of 'em)
Read More
Filed Under: