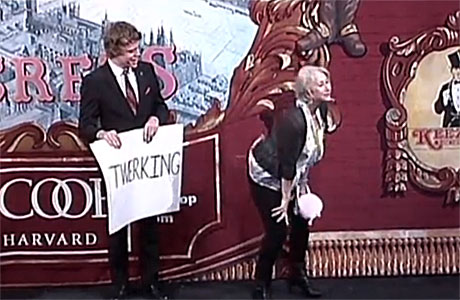 Here's an idea for next year's Academy Awards, when you give out your best actor trophy, or best soundtrack for that matter, why not demand that the lucky winners do a quick round of charades before they can get their hands on the prize? It would reduce the amount of over-emotional speeches, liven up the ceremony no end, and who knows, maybe you can even get a Dame to dance like Miley Cyrus!
That's certainly what happened at Harvard's undergraduate drama society Hasty Pudding Theatricals, when awarding Dame Helen Mirren their Woman of the Year award. Rather than just handing the trophy over and listening to a speech about being the best you can be, they brought out actors dressed as three of the queens she has played in the past, and asked her to act out a word or two.
After a false start, the word twerking came up, and despite quite firmly saying she would not be acting that one out, it's quite a hard expression to get across in any other way, as you can see:
One can only wonder what Dame Maggie Smith would have made of such a request.
See more:
Dame Helen Mirren To Be Honored With BAFTA Fellowship
Helen Mirren's Advice For Young Actors: "Don't Be Up Your Own Bum"
Brit Binge Watching: Five Detective Dramas You Can View Online
Dame Helen Mirren's Play Breaks Cinema Records


Read More
Filed Under: