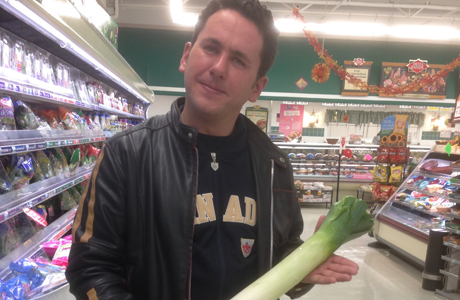 While many Brits looking stateside might first think of New York or Los Angeles, there are plenty of other big cities with extensive histories, diverse populations and culture to burn. Chicago is one of these metropolises, and it's also home to a unique expat Welsh group, the Chicago Tafia, which is run by Dave Parry.
"While there are only a few hundred [Welsh people] in Chicago, it doesn't appear to be a recent thing. We seem to have been here since the start of Chicago, and apparently the estimated 5,000 Welsh in the city at the time put on one of the strangest Eisteddfod's during the World's Columbian Exposition of 1893."
There's a Wales-Chicago connection in other areas too. "Al Capone's fixer 'Murray the Hump' was born to a Welsh immigrant family from Llandinam in North Wales," says Parry. "David Charles Davies, the Director of Chicago's Field Museum in the 1920s was from Llangeitho, and we had at least three expat players with the Chicago Blackhawks in the 1940s through the 1960s. Even today, guys like Jon Langford (Newport) and Tony Jones (Cardiff) are pillars of the Chicago cultural and arts scene."
Though Chicago can be derided as the "Third City" of the U.S., its location is actually one of Perry's favorite things.
"It's a crossroads between north and south, east and west, a port city even though it's inland—Though that port is O'Hare airport! But it's a starting point or ending point for bands, poets, comedians and artists on tour too, and where else can you see bands like the Manic Street Preachers, Stereophonics or Marina and the Diamonds for less than $20 with just a few hundred people in the audience?"
Originally from Swansea/Aberystwyth, Parry, 38, first moved over here in 1998 "for the only reason a twentysomething would stupidly up sticks and move across an ocean; I'd met a local bird." The romance may not have lasted, but the city made a huge first impression.
"I found the weather in Chicago hot," says Parry, "and that was an improvement over the summer we had been having in London that year. Only joking! To be honest though, I found Chicago an amazing city from day one and still do; it's a cheeky state within a state that has its own mentality."
Combining the Tafia with his job as an environmental scientist, "You know, that all-too-familiar combination," was something that Parry started almost from day one.
"Not long after I arrived here I was looking for a bit of free advice about immigration, and I realized that while other immigrant groups had some cultural institution or network to fall back on, seemingly the Welsh or even us Brits as a whole did not. I had been running into random ex-pats here, there, and everywhere, mainly at pubs and concerts, and grabbed their contact info and then got in touch if there was anything Welsh going on in town, and it sort of evolved from there."
From the beginning, the Tafia was going to be different. Not only do they include "a few whose parents or grandparents were from Wales, a few rag tag Scots, English and Irish," and, in a nod to modern-day England, "a fair few Poles," they all agreed that they wanted it to be more relevant to a modern-day immigrant.
"Most other Welsh groups in America have been immigrants from their areas for 100 years," says Parry, "so the culture they promote is a relic of something that hasn't existed for decades. It's a fascinating time capsule in many ways, but we wanted it to be like 'what we did over there, but over 'ere.'"
There is a mix of past and present though, and the Tafia represent Wales at local area Celtic and cultural festivals and work with choirs and bands organizing concerts and gigs, but they also have an annual task.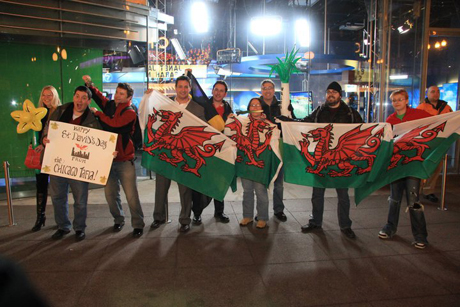 "We badger the owners of the Wrigley Building to have it illuminated white, red & green on March 1st for St. David's Day," he says, "but in general we mainly meet up for Welsh sporting events, bands, festivals etc. We have a few dozen regular members and a few hundred overall in the city and surrounding area that follow what we get up to and come out once in a while."
Contacting members across such a large city has been revolutionized by the explosion in social media.
"It's been huge for the Tafia!" says Parry. "We were lucky I suppose because I moved here right at a time when the internet was becoming a normal everyday thing, though back then we were still asking, 'Do you have an email address?' We dabbled in Yahoo Groups and Myspace, but then set up the first Tafia group on Facebook in 2007.  With no real budget for advertising, I think in many ways we were forced to be creative and become early adopters of social media."
The biggest player has been Twitter, something that Parry admits he initially had "no clue" about&mdashluntil Eddie Izzard played Cardiff in 2008:
"I was sat at my desk in Chicago watching Eddie Izzard do a live feed of tweets behind his show," says Parry, "and then I tweeted him and realized that everything that I was typing was appearing on a massive screen 3,000 miles away. I found that fascinating. Now at Tafia events I'm amazed by the amount of new faces who say, 'We read about it on a Twitter feed or was linked on a post on Twitter.' We use it to contact bands too, and got The School to play here "
The questions new immigrants ask have changed a lot since Parry arrived in Chicago too.
"In the late 1990s and early 2000s it was always the best way to make cheap calls home," he says, "but that's not really much of an issue anymore. Being baffled by the byzantine immigration process is an ongoing concern, as is where to find decent Brit foods."
Parry advises potential expats to try and arrange immigration paperwork before even getting on the plane, and also to take a final trip to the chair.
"Get as much dental work done as possible before getting here," he advises. "Seriously, a root canal plus crown can set you back three grand—even if you have insurance! Also, don't lose your accent. It has many perks, not least of all is when you bugger something up at work, you can always claim to your boss that it was 'they' that misheard you."
Unsurprisingly, Parry also finds that the U.K. has changed a lot over the years too. "Every time I go back I miss it a bit more – you seriously can't beat Britain!" He does, however, find one strange difference, and it's something that new expats stumbling around huge American megamarts might find hard to understand.
"Odd as it sounds, the variety in U.K. shops always does my head in!" he says. "Seriously, a Tesco in some tiny town near Carmarthen has more variety of foods than most of the highfalutin' posh grocery stores around these parts! I dunno, America sometimes can seem oddly intent on priding itself on being backwards, and it can be very hard to take it seriously sometimes."
If you're considering a visit—or even a more permanent stay—in the "Windy City," he has some suggestions of place to visit.
"I generally drag visitors to the Hancock Building for cocktails in the bar on the 95th floor," he says, "and I always reckon the sausages at Hot Doug's are worth the wait. Driving along Lakeshore Drive on a nice summer day has something special about it, too."
One of his favorite memories was from when he first arrived in Chicago and had spent a "shite" morning at immigration. Perhaps homesick, he got out at a train station called Bryn Mawr (in Welsh "Big Hill") and found a rundown "ghetto"—and saw that the next train wasn't for an hour. "So I befriended a beggar and went to one of the most fantastic bars I had ever visited, a relic from the 1940s/50s, never updated, but it wasn't trying to be vintage," he recalls. "On the walls were pictures of Ella Fitzgerald, Louis Armstrong, Otis Redding and a whole slew of the who's who of blues and jazz at the pub. The beers were 50 cents and my one hour train delay turned into a five hour afternoon of beers with some bloody great people."
As for the future of the Tafia, 2014 will see the 6 Nations rugby, St. David's Day and "all the usual stuff," though the 100th anniversary of the birth of poet Dylan Thomas means some special events.
"Not too highbrow though, just mainly gathering some Chicago area reprobate musicians and authors to do readings of Dylan's work or work inspired by Dylan, all while supping some decent whiskey. That and making a field trip to Elkhart, Indiana to check out a new Welsh brewpub called Lechyd Da*!"
*Iechyd Da is Welsh for "cheers!" and owner Chip Lewis's Welsh ancestors emigrated to the USA in 1635.
N.B. "Tafia" combines references to the Mafia with the common nickname for Welsh people, which comes from the River Taff.
Do you belong to an expat group in your area? 
See More:
Snapshot: 21 Photos of Cardiff, Wales
British Expat of the Month: Fiona Bloom, Publicist Extraordinaire 
British Expat of the Month: Aviator Richard Chan Takes Flight as Hollywood Entrepreneur
Read More
Filed Under: