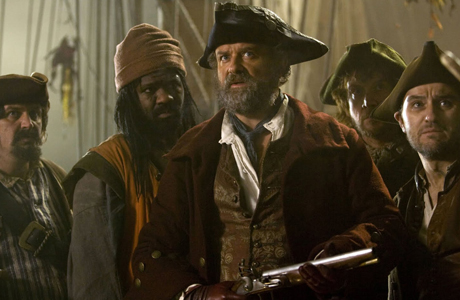 Downton Abbey is making its return to PBS's Masterpiece Theater tomorrow night, January 5, at 9pm EST. Audiences are on the edge of their seat in anticipation of the premiere of season four, where we pick up six months after Mathew Crawley's (Dan Stevens) passing. If you just cannot wait until tomorrow night to get your DA fix, then maybe binging on some of the Crawley patriarch Hugh Bonneville's previous performances will help you get through the weekend. Check out five of his performances here:
1. Doctor Who (Series 6)
Bonneville stepped out of his Edwardian-era fancy dress for well … pirate fancy dress, making a guest appearance (twice) in the Doctor Who TV series as seaman Henry Avery. Avery was a naval officer in the 1690s, who became overwhelmed with greed, leaving his family behind in search of treasure in the way of pirating. The Eleventh Doctor (Matt Smith) boards his ship, advising Avery to leave the treasure behind.
Watch "The Curse of the Black Spot" and "A Good Man Goes to War" on Netflix.
2. Twenty Twelve
Bonneville portrays Ian Fletcher who leads the fictional Olympic Deliverance Commission (ODC) as him and his team gear up to the 2012 Olympics in London, England. His team is extremely dedicated but somewhat clueless and Fletcher finds himself having to fill in the gaps. 
Watch Twenty Twelve on Hulu.com Plus or Amazon.com Instant.
3. Knife Edge
In this eerie thriller, Bonneville portrays Charles Pollock who acts as an advisor to a young woman named Emma who returns to England from the U.S. with her husband and five-year-old son. Emma and her family move to the countryside where Emma begins seeing things that she can't explain. She has trouble distinguishing between what's real and what's not, and questions her own sanity. It's unclear if Pollock's advice is helping or hurting her. 


Watch Knife Edge on Netflix.

4. Daniel Deronda
After losing her father, English socialite Gwendolen Harleth (Romola Garai) learns she and her widowed mother are in financial distraught. Following this news she meets Henleigh Grandcourt, played by Bonneville, who proposes to her shortly after their first meeting. To make things complicated, Gwendolen has eyes for Daniel Deronda (Hugh Dancy) but there's no way he can take care of Gwendolen and her mother in the way they are accustomed to, which is expected during the Victoria-era.
Watch Daniel Deronda on Netflix.

5. From Time to Time
A 13-year-old boy (Alex Etel) realizes he can travel between two times, the 1940s (his present) and the 1700s, where he meets a cast of "spirited" characters played by Bonneville, Dominic West and Eliza Bennett.

Watch From Time to Time on Netflix.
What's on your playlist?
See More:
Predictions: 'Downton Abbey' Returns on Sunday
Hugh Bonneville to Star in 'Paddington' 
Hugh Bonneville Saves Art History in 'The Monument Mens' Trailer
Read More
Filed Under: