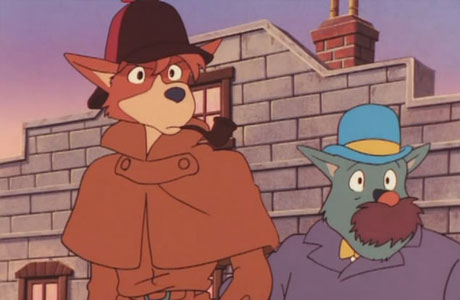 The adventures of Sir Arthur Conan Doyle's most famous creation have been given many and varied theatrical and cinematic treatments since he first arrived in print form. Some are serious, some silly, and some are just plain odd.
But as we are about to see, the most eccentric depictions of Sherlock Holmes, Dr. Watson and their associates have been reserved for children, and most particularly, cartoons.
Here are five examples:
The New Scooby-Doo Mysteries: "Sherlock Doo" (1984)
Sadly, this fragment, appalling British accents and all, is the only evidence we could find of the epic battle between Scooby Doo, Fred, Daphne, Shaggy and that mouthy little pup Scrappy Doo (but no Velma, oddly enough) and the ghost of Sherlock Holmes, and as any fool can see, he's not even in it. There is this picture though.
It all takes place in London, during a contest for mystery solvers. Without wishing to spoil the plot,it turns out he's not a real ghost, not least because Sherlock Holmes wasn't a real person to start with.
There again, dogs can't talk, so let's not be too picky.
Sherlock Holmes in the 22nd Century (1999)
Pro tip for anyone thinking of writing a script, but stuck for characters and scenarios: all you need to do is think of a well known character or story, and put it where it doesn't normally go.
Boom! You've got yourselves a story; King Arthur and the Knights of Mount Everest, Robin Hood at the Bottom of the Sea, Muppets in a Skip. Why not have a try yourself?
Take Sherlock Holmes in the 22nd Century. Rejuvinated by science on the express request of Beth Lestrade of New Scotland Yard because there's a clone of the original Moriarty on the loose. Best of all, Beth has had Dr. Watson's journals put into the database of a robot police officer, who then takes on Watson's personality traits… and name.
Which also makes this Futurama in Britain. Amazing.
Teenage Mutant Ninja Turtles: "Elementary, My Dear Turtle" (1987)
http://www.youtube.com/watch?v=DbpjXc8SYjw
Now this is definitely more feasible. It seems that an atomic clock the turtles have been playing with has hurtled them back to Victorian London, and then fallen into the fiendish fingers of Professor Moriarty. Now Michaelangeno, Donatello, Raphael and Ringo Leonardo have to find a way to stop him taking over the world, with the invaluable help of a certain detective and his medical friend.
Perfectly rational behavior from all concerned.
Sherlock Hound (1984)
http://www.youtube.com/watch?v=LrgkmgWpbZE
Never mind Elementary and their revolutionary female Watson, the problem with everyone else's retelling of the Holmes stories is they're all a bit… humany? Sherlock Hound rectifies this, by making everyone, from Sherlock and Watson to Mrs Hudson, Lestrade and Moriarty, a dog in clothes.
However, certain liberties have been taken with plot, in that Mrs Hudson (a golden retriever) takes on the role of love interest, with Sherlock Hound (Pembroke corgi) and Professor Moriarty (a wolf, naturally) vying for her affections.
Note: the first six episodes of Sherlock Hound were directed by the great Hayao Miyazaki (Spirited Away), but there were issues with Sir Arthur Conan Doyle's estate, and by the time production resumed, he had moved on.
The Real Ghostbusters: "Elementary, My Dear Winston" (1987)
http://www.youtube.com/watch?v=dSFvjhOZUS8
Back in the world of the humans… and ghosts. Sherlock Holmes, Doctor Watson, and Professor Moriarty are finally acknowledged to be the fictitious characters we knew they were all along. But they remain so popular that they are eventually brought to life by the fact that the fans really love them. So they're not exactly ghosts, of the sort that need busting, nor are they real. It's a pickle.
And if all of those seem a little mad, you should really take a look at the Wikipedia entry for the Japanese trading card franchise Tantei Opera Milky Holmes.
See more:
Five Sherlock Holmes Adaptations You Can View Online
QUIZ: Which 'Sherlock' Character Are You?
10 Tips To Help You Write The Perfect British TV Show
The Full Dynastic Heritage Of Benedict Cumberbatch
Read More
Filed Under: