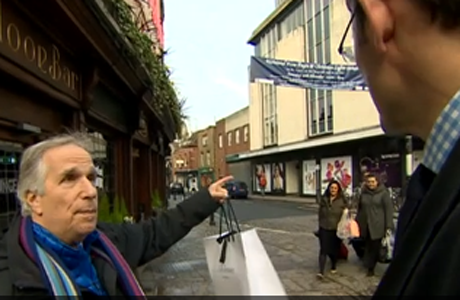 BBC News correspondent David Landale took to the streets of the London borough of Richmond, to conduct "Man-on-the-Street" interviews, polling passersby on their thoughts in regards to Heathrow expansions.
One such passerby was American actor Henry Winkler who portrayed The Fonz on the iconic TV show Happy Days, which aired from 1974 to 1984, with generations to follow watching the show in re-runs.
We've all been there, you're walking down the street and someone stops you asking, "Do you vote?" You may be registered but just not where you are actually standing. Winkler was out running errands, he was asked the question by Landale, Deputy Political Editor, and Winkler's response to being a voter was sweet and considerate saying, "I am not!? Well, I'm American. I'm not here."
Fourteen seconds into the interview Landale says, "Of course I recognize you." Following the interview Landale issued a short statement saying, "I did know he was Henry Winkler but it took a moment to sink in …" He went on to say, while Winkler is not a permanent resident of Richmond, his opinion is welcome, saying, "He has just as much a right to an opinion as anyone."
And what was Winkler's opinion on the expansion? He told BBC News, "Richmond is a lovely place. I watch the planes go every day. I hear nothing."
It may have been refreshing for Winkler to walk down the street unrecognized and go about his business. And, if he was a little miffed, he hid it well. Maybe he embraced the attitude of The Fonz and with two thumbs up, it was like, "Ayyyyyy. No problem David. It happens."
Winkler is in the area starring in the Peter Pan pantomime play, taking place at Richmond Theatre from Friday, January 3 to Sunday, January 12, as Captain Hook. You can check out more details about the production here.
Landale also pointed out, this was not a set up … just a random happenstance on the streets of Richmond.
You can watch the video below:
What did you think of the run-in? 
See More:
What are Brits Watching: 'Airport Live' 
The TARDIS Lands at London's Heathrow
Emma Watson Stopped by Airport Security
Read More
Filed Under: