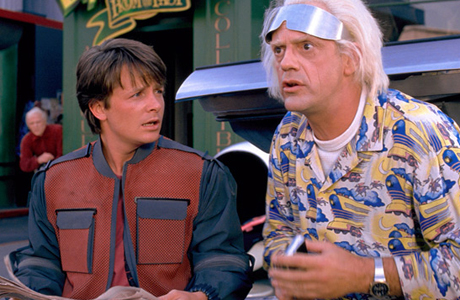 The 1985 film classic Back to the Future is heading to London's West End in 2015, celebrating its 30th anniversary, reports BBC News.
Back to the Future co-writers Rob Zemeckis and Bob Gale will reunite to write the stage adaptation. They're teaming up with composer Alan Silvestri and songwriter Glen Ballard who will write the music and lyrics. Oh yeah, did we mention that it's a musical?
Gale told BBC News, "We intend to use music from the movie along with brand new songs to make a version of Back to the Future that is fresh, entertaining and takes advantage of all the amazing things that can now be done on stage."
At first glance, this sounded like a strange mix. Back to the Future? In London? Set to Music? But, as it soaks in, we're warming up to the idea.
We can definitely see Biff, originally played by Thomas F. Wilson, busting out into song with his fists in the air while George McFly (Crispin Glover) coils in the corner singing a ballad to himself. In the original film, Marty McFly (Michael J. Fox) was in a rock band, so that's an easy transition. We can't forget about Marty's mum (Lea Thompson) who had the hots for Marty (she didn't know he was her son), swooning over him in melody. Sigh, the simpler times.
British director Jamie Lloyd will take the helm on this project. He was five-years-old when Back to the Future came out and his been a fan ever since. Lloyd recently directed James McAvoy in last year's Macbeth in London.
We're not the only ones with Back to the Future on the brain. Star Trek's George Takei cheekily posted this on his Facebook page this week: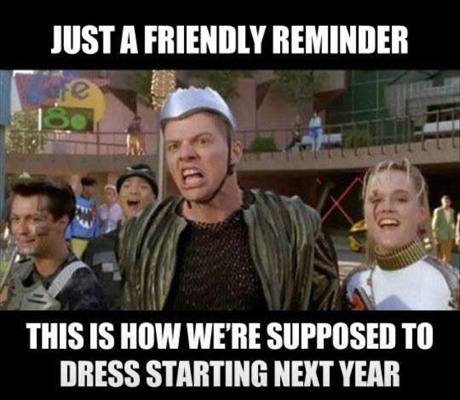 Do you have any songs to suggest? 
See More: 
10 Sci-Fi Franchises Influenced by 'Doctor Who' 
Matt Smith to Star in 'American Psycho: The Musical'
Watch: 'Liam Neeson: The Musical'
Read More
Filed Under: