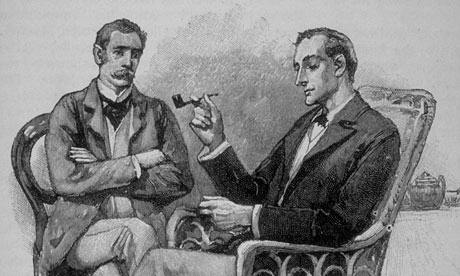 The copyright for Arthur Conan Doyle's characters in the stories of Sherlock Holmes, excluding the last ten Sherlock Holmes stories released in the U.S. after 1922, has expired in the U.S., making the content public domain, reports NPR.
Chief Judge Rubén Castillo of the United States District Court of the Northern District of Illinois, Eastern Division, has ruled that the characters found in Doyle's stories are fair game.
So, in other words, if you'd like to write a piece of fan fiction, a short story or even long story based on Sherlock or Watson (or other characters), you can do so without gaining permission or paying a fee to the Doyle estate.
But, just to be clear, specifics from the last ten stories cannot be included for example, the fact that Dr. John Watson had a second wife.
The issue came up when an American editor, Leslie S. Klinger, heard from his publisher, Pegasus Books, that there was a delay in publishing his new collection, entitled In the Company of Sherlock Holmes, written by numerous contributing authors and edited by Klinger. Klinger had paid a $5000 licensing fee to the Doyle estate but there was a second fee requested, before giving permission to publish.
Now that the ruling has been announced, Mr. Klinger plans to go forward with his project saying, "Sherlock Holmes belongs to the world, and this ruling clearly establishes that," reports NPR. He goes on to say, "People want to celebrate Holmes and Watson."
The remaining stories will go into public domain in eight years. All of the stories are already public domain in Great Britain.
What do you think of the ruling? 
See More: 
Sherlock Holmes Gets His Own Touring Exhibit 
Now THIS is How You Announce a Comeback #SherlockLives
Eleven Fictional Characters Who Could Totally Be Time Lords
Read More
Filed Under: