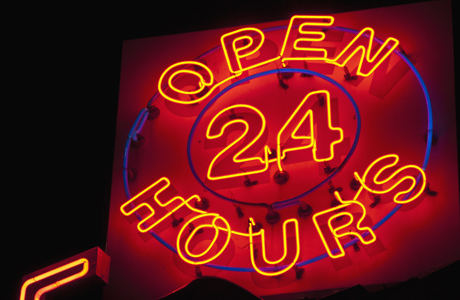 These rival cities are immeasurably fabulous. But they could both stand to make some changes, based on how the other operates. Here's what London can do to make itself more like NYC—in a good way.
1. Restaurants should deliver food quickly
Order an early dinner from any London eatery, and you could still be gnawing your fists off at midnight. Each of the seven times you've called to track their progress, you've been told the driver is merely five minutes away. Of course, he's not. Turns out he went via Scarborough, so now your chicken korma has hypothermia. In New York, where the people delivering your food rely on tips for wages, this almost never happens.
2. Larger measures and pubs that are open later
Once you've ordered a whiskey in New York (it will be BIG, whether or not you asked for it that way), there's no going back to the thin, obscenely priced line of amber liquid you get in any London drinking establishment. Then, despite U.K. licensing laws easing up in recent years, most pubs will call last orders at 11:30 and you'll have to search for somewhere open late. There's absolutely no turfing punters out before their bedtime here in NYC where bars can legally stay open until 4 am.
3. Cheaper taxis
New York cab drivers may not quite know where they are at any given time—or how to get you where you want to go. But they also won't charge a year's salary to drop you down the street, unlike London's black taxis.
4. More food trucks
Unless you count ice cream vans and those small, greasy carts selling deeply suspicious sausages, London doesn't really do mobile food establishments. New York has thousands of them. So when you're in a dead restaurant zone like Midtown, you can always pick up decent falafel or tacos.
5. Dress dogs better
You might occasionally see a London hound wearing a sensible jacket when it gets a bit nippy. But our pooches' sartorial choices are flat and flare-free. New York City dogs—or rather their owners—treat walkies like it's a fashion show. Never mind the catwalk; New York is all about the dog walk. It's entirely possible that on the same outing you could see a spaniel sporting a crop-top and hot pants and a bloodhound wearing a bomber jacket. I'm sure this is excruciatingly uncomfortable for the animals but it helps make everyday in NYC feel like a carnival.
6. Affordable, 24-hour subway
New York's subway is filthy, confusing and smells of wet rat. BUT it's cheap (compared to London), and most of it runs around the clock. Londoners, who also have to put up with a bizarre zoning system and touching out as well as in with their Oyster cards, covet this kind of service more than NYC's food trucks, big booze measures and cool mayor combined.
7. Be nicer to babies and their owners
New Yorkers love babies. Even the seemingly mean ones will chuck you an obligatory coo on the subway if you're with an infant. Londoners make a point of ignoring children, unless they're being annoying. If this happens, they seethe loudly or complain to the parents.
8. Pick up dog poo
When I head back to London, one of the first things I notice is that the pavements are streaked with little brown cylinders of dung. Dog owners in the U.K. capital will still happily shuffle off without clearing up the by-product of owning a mutt. I've no idea why, but this rarely happens in New York.
9. Cheaper restaurants, plus a sanitary grading for all eateries
In New York, twenty bucks buys you a feast for two, plus leftovers. You're lucky if they don't charge you this for the supposedly free bread and tap water in London. Also in the Big Apple, you know whether the absurdly low-cost restaurant you're about to enter is clean, because NYC has a hygiene grading system. Anywhere that serves food is required to display a letter grading in the window. In London, you have to rely on your gut, either to tell you to stay away or deal with the E. coli you unwittingly ingested.
10. Restaurants that open later
In our fair capital, you might get lucky and stumble on a fetid kebab shop still serving stuff that they can just about legally call food when you fall out of a club at 3am. What you won't find is any other London eating establishment with its doors open. Nope. The city's restaurant scene goes to bed early. In NYC, you can have professionals make anything you want to eat at any time—and many of them will deliver. Granted, we're talking diners, falafel and pizza rather than Michelin-starred restaurants, but even this would seem luxurious to Londoners.
Have you already learned something new from New Yorkers?
Join @MindtheGap_BBCA and guest co-host @BBC_Travel Wednesday, January 29 at 2 pm ET on Twitter for a #MindTheChat on London vs. NY (and LA). Which city is the greatest? Tweet your thoughts using hashtag #MindTheChat for a chance to win a full season download Neil Gaiman's TV miniseries Neverwhere on iTunes. Follow @MindtheGap_BBCA on Twitter.
See More:
10 American Smells Brits Will Learn to Love
8 All-American Pastimes Brits Could Learn to Love
What the U.S. Can Learn From British-Style Parenting
Read More
Filed Under: