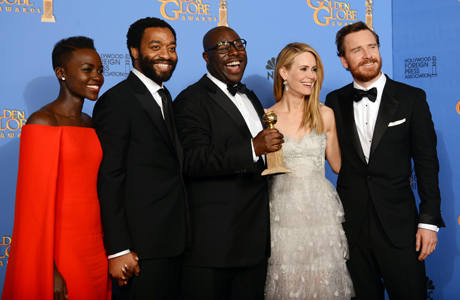 With the Oscar nominations just days away (January 16), the Hollywood Foreign Press Association provided some extra momentum to 12 Years a Slave and American Hustle, setting the presumptive frontrunners up nicely for the remainder of the season.
12 Years' win for Best Motion Picture, Drama seemed uncertain throughout the evening, as the Steve McQueen-directed slavery epic appeared as if it might go home empty-handed tonight. But it won Best Motion Picture, Drama, the final award of the evening, and remained on a path to possible Academy Award victory.
http://www.youtube.com/watch?v=R349mqOfTPY
American Hustle's night was much more bountiful. Amy Adams received the Actress in a Comedy or Musical Globe, with her co-star Jennifer Lawrence winning for Supporting Actress. It was hardly a surprise when the David O'Russell-directed period dramedy also won the Best Motion Picture, Musical or Comedy award.
The HFPA spread the wealth among several films: Alfonso Cuaron won Best Director for Gravity, while Spike Jonze received the Best Screenplay award for his unconventional love story Her. Cate Blanchett, the earliest and most secure lock of this season so far, predictably won Best Actress for playing an upper-crust woman in mental and financial collapse in Blue Jasmine. Matthew McConaughey won Best Actor for his physically demanding part in Dallas Buyers Club, and his co-star Jared Leto took home the Best Supporting Actor award.
The film awards get the most ink, but the Globes also reward TV achievements. The HFPA hopped aboard the Breaking Bad bandwagon this year, handing the now-retired series Best Drama Series and Best Actor for Bryan Cranston. Robin Wright stunned fans of Orphan Black's Tatiana Maslany and Scandal's Kerry Washington with an upset Best Drama Actress win for Netflix's House of Cards. And the Emmy-winning Behind the Candlelabra continued to collect shiny items, winning for Best Miniseries or TV Movie and Best Actor for Michael Douglas.
The Globes went out on a considerable limb to honor Fox's freshman cop comedy Brooklyn Nine-Nine for Best Comedy Series and Actor for Andy Samberg. (The evening, hosted by Tina Fey and Amy Poehler, was essentially a grand Saturday Night Live reunion, with Samberg, Will Forte, Seth Meyers, Jimmy Fallon, and '80s alum Julia Louis-Dreyfus all figuring prominently in the festivities.)
Fey and Poehler hosted the Golden Globes for a second year in a row to rapturous reviews via social media. Here's their monologue, which takes shots at everyone from George Clooney to Captain Phillips:
http://www.youtube.com/watch?v=qijQ16a1B-Q
In one of the night's great bits, a Bieber-wigged Poehler appeared on stage as Fey's "adult son Randy," the recipient of this year's "Mr. Golden Globe" promising star award. But unlike last year, the most memorable moments often occurred when they weren't on stage. Legendary British sex symbol Jacqueline Bisset left viewers in TV Land puzzled with an erratic, labored acceptance speech that turned the air blue, while Diane Keaton inspired smirks when she broke into song during a tribute to long-time collaborator Woody Allen.
http://www.youtube.com/watch?v=Vmtd5Chvzrg
http://www.youtube.com/watch?v=YNwPY1rJ_bU
Here's the full list of winners:
Best Motion Picture – Drama
12 Years A Slave

Best Motion Picture – Musical or Comedy
American Hustle

Best Actor – Motion Picture Drama
Matthew McConaughey, Dallas Buyers Club

Best Actor – Motion Picture Musical or Comedy
Leonardo DiCaprio, The Wolf of Wall Street

Best Actress – Motion Picture Drama
Cate Blanchett, Blue Jasmine

Best Actress – Motion Picture Musical or Comedy
Amy Adams, American Hustle
Best Supporting Actor
Jared Leto, Dallas Buyers Club
Best Supporting Actress
Jennifer Lawrence, American Hustle

Best Director
Alfonso Cuaron, Gravity
Best Screenplay
Spike Jonze, Her

Best Original Score
All Is Lost

Best Original Song
"Ordinary Love," U2 (Mandela: Long Walk to Freedom)
Best Foreign Language Film
The Great Beauty

Best Animated Feature Film
Frozen
TELEVISION
Best Drama Series
Breaking Bad

Best Actor in a Television Drama Series
Bryan Cranston, Breaking Bad

Best Actress in a Television Drama Series
Robin Wright, House of Cards
Best Comedy Series
Brooklyn Nine-Nine
Best Actor in a Television Comedy Series
Andy Samberg, Brooklyn Nine-Nine
Best Actress in a Television Comedy Series
Amy Poehler, Parks and Recreation
Best Mini-Series or Motion Picture made for Television
Behind the Candelabra

Best Actor in a Mini-Series or Motion Picture made for Television
Michael Douglas, Behind the Candelabra

See more:
The Sky's The Limit: 'Gravity' Leads 2014 BAFTA Nominations
Snapshot: Britain 2013 in Photos
Best Actress in a Mini-Series or Motion Picture made for Television
Elisabeth Moss, Top of the Lake
Best Supporting Actor in a Series, Mini-Series or Motion Picture made for Television
Jon Voight, Ray Donovan
Best Supporting Actress in a Series, Mini-Series or Motion Picture made for Television
Jacqueline Bisset, Dancing on the Edge

Read More
Filed Under: