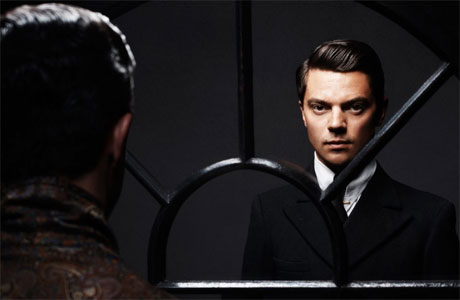 Next Wednesday (January 29 at 10/9c), BBC AMERICA shows the first episode of Fleming: The Man Who Would Be Bond, a dramatized account of the wartime exploits of Ian Fleming, creator of the most famous British spy in movie history.
It stars Dominic Cooper as the debonair Naval Intelligence officer and ladies' man, whose daring exploits do rather bleed into those of his most famous creation. But it's not just Ian Fleming who performed acts of daring and heroism during the war.
Here's a parade of soldiers (and one notable civilian), all of whom deserve medals, and some of whom got them.
Jon Pertwee
The most Bond-like character in this list, Jon's role in Naval Intelligence was so covert he had to keep quiet about it for decades, but a recently-published interview in Doctor Who magazine reveals he actually worked alongside Ian Fleming, and was the perfect superspy, offering brass buttons that hid a compass, a pipe that could fire a bullet, a secret map hidden in a handkerchief, and that sort of thing.
He was also the Doctor who genuinely did meet Winston Churchill, saying: "I don't remember much of my first meeting with Churchill except he gave me some priceless advice. He told me to always watch people, that there was a lot you could learn about someone's character from the little actions they make – which was great advice for an actor.'
David Niven
Pushing aside for a moment the issue of his insubordination and resigned commission from the Argyll and Sutherland Highlanders in 1933, David was the sole British Hollywood star to come back and enlist when the war began—against, it should be noted, the advice of the British Embassy. He soon joined the Commandos, leading "A" Squadron GHQ Liaison Regiment, better known as "Phantom." He was part of the invasion of Normandy after D-Day, helped to set up the BBC Allied Expeditionary Forces radio service, and on his return to Hollywood, was presented with the Legion of Merit, by President Eisenhower.
He also gave this wonderful quote about his experiences: "I will, however, tell you just one thing about the war, my first story and my last. I was asked by some American friends to search out the grave of their son near Bastogne. I found it where they told me I would, but it was among 27,000 others, and I told myself that here, Niven, were 27,000 reasons why you should keep your mouth shut after the war."
Roald Dahl
Not just the author of Charlie and the Chocolate Factory, and Fantastic Mr. Fox, Roadl was an actual flying ace in the RAF, who began the war in the cockpit of a biplane (the already out-dated Gloster Gladiator), had a horrific crash when his navigation instructions took him far away from a safe landing (and was temporarily blinded too), then flew Hawker Hurricanes in the Battle of Athens. He was taken out of active flight service in 1942, and began two careers at once after that. One in writing, retelling RAF stories and writing propaganda for the Allies, and the other in international espionage, alongside one Ian Fleming.
Richard Todd
Perhaps best known as playing Wing Commander Guy Gibson in The Dam Busters, Richard saw active service in the 7th (Light Infantry) Parachute Battalion, and was one of the first officers to arrive in Normandy as part in the D-Day landings in June 1944. He also took part in the assult on Pegasus Bridge near Caen that was recreated in 1962 as The Longest Day. However he did not play himself, taking the role of Major John Howard and handing the part of Richard Todd to a fellow actor.
Alec Guinness
The future Obi Wan Kenobi was in the Royal Navy, commanding a landing craft depositing troops and supplies during the invasion of Sicily and Elba. This did not distract from his already-established acting career. He was granted special leave to go and appear on Broadway during the war: Flare Path, by Terence Rattigan, is about RAF Bomber Command. No boats required.
Patrick Moore
The British astronomer and broadcaster actually joined the RAF at the age of 16, having lied about his age. He began as a navigator in Bomber Command, and then moved up to the rank of flight lieutenant, having trained in Canada, and even met Albert Einstein in New York, while on leave.
Sadly Patrick's war ended in tragedy, with the death of his fiancée, a London nurse called Lorna, whose ambulance had been struck by a falling German bomb. He never married, having decided that she was the only love for him.
Dirk Bogarde
A commissioned officer in the Queen's Royal Regiment, Dirk became a captain and saw active service in Europe and in the Pacific. He claimed he had been one of the first Allied troops to reach the concentration camp at Bergen-Belsen, in April 1945, although this has since been contested by his biographer. What's clear is that he saw a lot of action, and this largely informed his views in later life; including an aversion to Germans, and strong views in support of voluntary euthanasia.
Christopher Lee
Not one to shy away from a cause, Christopher actually volunteered to fight for Finland during the Winter War of 1939, but was kept away from the field of battle, along with other British would-be soldiers. Still, he found his way into the RAF, and having trained as a pilot and found to have weak eyesight, served his time in intelligence. His became a Cipher Officer in Northern Africa, heading up through Sicily and Italy, and served as a Special Operations Executive, attached to the SAS. And even after the war, Christopher continued to serve, taking a role in tracking down Nazi war criminals, before commencing on a long and impressive film career.
Denholm Elliott
Another former member of the RAF, Denholm trained as a sergeant radio operator and gunner and serving with No. 76 Squadron RAF under the command of Leonard Cheshire. His Handley Page Halifax bomber was hit by flak during a 1942 air raid on Flensburg in Germany, and had to ditch in the North Sea off the German coast. Denholm was picked up and arrested, and sat the rest of the war out in a prisoner of war camp in Silesia.
Audrey Hepburn
The most startling tale of them all. A condensed version of all the facts would start with a fascist father, a broken home, a relocation to Holland at the outbreak of war, the invasion of the Germans and ballet training for the young Audrey. Then malnutrition, anæmia, respiratory problems, and œdema, followed by silent ballet recitals to raise funds for the Dutch resistance, and delivering messages and parcels for them too. Once the Germans had been ousted by the British, there was more malnutrition, starvation and then finally United Nations Relief supplies. It's no surprise she became such an ardent supporter of UNICEF in later life.
See more:
Eleven Fictional Characters Who Could Totally Be Time Lords
James Bond's Submarine Car Forgotten in Storage, Sold at Auction
WARNING: Daniel Craig Wants To Bring 'Irony' Back To Bond
James Bond Makes His Return in Book Form
Read More
Filed Under: