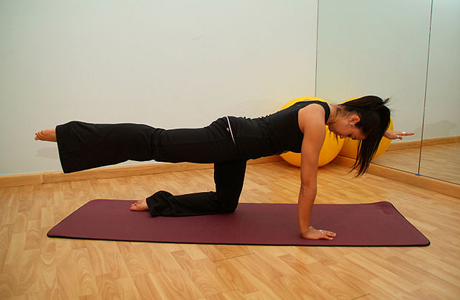 It's the New Year, and across the world people are making resolutions of all kinds. One of the most popular vows is to get fit for 2014, so here is a brief list of 10 things you can do. (Be warned though, I'm not a sports or health professional, so you should do your own research and consult a doctor or health professional before starting any new exercise or dietary regimen.)
Take the stairs
Being like the tortoise with exercise—taking it slow and steady (and eating sensibly)—will get you there in the end, so why not start by eschewing the convenient (and always packed) elevator and take the stairs instead?
Find (and join!) a gym
No matter where you live, there's going to be a gym nearby. There are the national chains like LA Fitness, 24 Hour Fitness and Gold's Gym, and plenty of independents out there too. (Here's a gym locator.) Of course, the big step is going back regularly once you've made that first visit. All the gyms will be packed this time of year with "resolutionaires" like you, but talk to the professionals there about what you want to achieve (after checking with your doctor, of course, to see if you're fit for exercise), and you could be some of the wheat left over from the chaff.
Not A Gym Rat?
Gyms can be expensive and intimidating (especially if you visit some of my local ones in Hollywood!), so check out where there are sports facilities, basketball courts, recreation (leisure) centers and parks in your area. Your city (like Los Angeles) or state will have a parks/recreation/facilities/community website where you could find almost any sport on offer – or just somewhere enjoy the open air.
The 'Find a Park' website
Pick a Team
Despite the lack of mainstream coverage, the U.S. is soccer-crazy, and it should be easy to get a pick-up game or find a team to train with. Asking around at your local Brit pub should do the job, and in sports bars you'll probably find flyers for soccer, softball and baseball too. Some expats might think their chance to play cricket or rugby has been left behind, but even in California you can find a pitch for a social—or more serious—game of 20/20, and you can scrum down across the country too: the president of USA Rugby (union) is even a Brit!
Southern California Cricket Association
The United States of America Cricket Association
USA Rugby
American National Rugby League
Eat healthy
Despite almost everything being declared bad for you, then good, then bad again, a glance inside anyone's refrigerator will reveal something that is high in calories, sugar, fat, carbs, salt—the list goes on. A little bit of what you fancy does you good on the whole, but supplementing exercise with better eating will definitely help. (I keep baby carrots on hand and often force myself to have them instead of chocolate.) Happily your local supermarket caters more and more for this, but read all labels carefully, check with your doctor and maybe visit your local health food store; there are plenty of indies, plus well-known chains like Whole Foods Market.
Nutrition.gov
Dietary Guidelines on Health.gov
Sustain! Going Organic/Vegetarian/Vegan
There's more and more interest—and concern—about where the food on your plate comes from, what it was fed, and how it was treated. You'll already know someone who is a vegetarian or loves organic food, so ask around. There are also countless resources out there to help you make some informed choices – though again you should definitely consult your doctor or health professional before making any changes.
Vegetarian Times
Eat Well Guide
Organic Consumers Association
Find your local farmers market
Visiting a farmers market is really win-win. Not only are you strolling around the stalls you're getting the chance to see, touch and taste organic and locally-produced fruit, vegetables, honey and other delights—and meeting the people who nurture them. Do the ever-important research and then forget the anonymous supermarket: this is a sustainable and tasty day out!
Find your local farmers market
The USDA's searchable database of farmers markets
No more "for the road"
Expats will have already noticed that many Americans have a different attitude towards alcohol. Public drinking and getting "buzzed" isn't as socially acceptable here as it is in the U.K., so taking a "less is more" approach and cutting down on the odd glass or two will certainly help your waistline and your bank balance.
Table of international drinking guidelines
Don't drive thru!
The availability and low, low prices of fast food makes it an all-too-easy and (usually) quick choice for a meal, even though we all know that a burger and fries are an iffy health choice. Unsurprisingly an American invention—though initially for a bank—the drive-thru burns as few calories as humanly possible for that take-out, so just say no and go to a drive-in movie instead (though of course they have candy, popcorn and hot dogs!)
Hit The Road, Jack!
Finally, if you're mobile enough, the easiest thing is to just walk. Even if it's round the block, to a slightly-further-away mailbox, to the store or even up a flight of stairs at work or a new street in your neighborhood, a little bit of motion is a good thing; going from the car to the store/restaurant/house/office doesn't count. You can do more challenging walks of course, and jogging is another road-pounding favorite. Also, the U.S. is covered in cycle routes and paths.
The American Heart Association's "Start Walking Now" website
America's Running Routes
Cycling Routes
Join @MindtheGap_BBCA on Twitter tomorrow (Wednesday, January 8) at 2 pm ET to discuss your health and fitness regimens this year. What do you do to stay healthy? Tell us using hashtag #MindTheChat!
See more:
How to Be Ill – And Get Better – in America
Pass the Vitamins, Please: An Expat's Guide to Staying Healthy U.S.-Style
10 Tips for Brits on Surviving the U.S. Healthcare System
Read More
Filed Under: