Brits use signs left and right to get their point across. But, this might be taking it a bit far. We admit, at first glance this headline might come across as disconcerting but it seems like this Welsh couple has had a history with public displays of affection and this time around, a display of disinterest.
To backtrack, about a year ago, a Welsh woman, who's name is not known, used the sign at Noah's Yard, in Swansea, Wales, to propose to her husband Paul.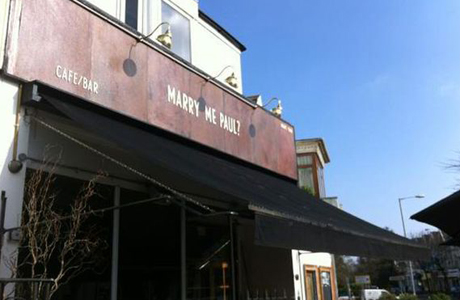 Apparently he said "yes" but things have not gone as smoothly as hoped for and she wants to end things.
It would be way too simple to talk to him in person, over the phone or even a quick text. Why not, put it in a sign?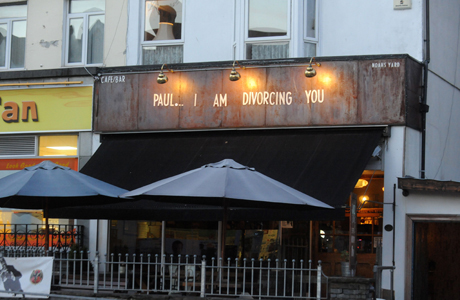 She didn't stop there and talked the pub owner, Noah Redfern, into posting a follow up sign: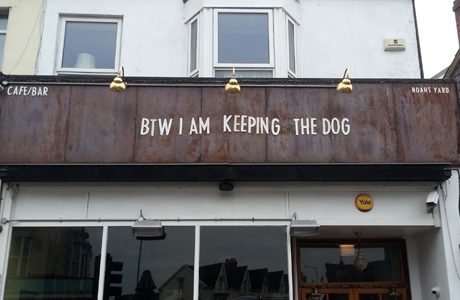 We don't want to get into the couple's dirty laundry, but it's been hung, and the woman admits to displaying the sign in a purposeful attempt to "name and shame" her husband after suspecting he's been up to dubious ways, reports the U.K. Express.
We have a soft spot for the husband, as this is embarrassing, but it seems like he might have a shoulder to cry on … or two. If you know what we mean?
The jilted wife is a regular at the pub and rather than crying into her pint she came up with the idea to "get my own back" in her words. She explains saying, "I was angry and upset so wanted a sign to go up for everyone to see," reports the Express.
There's a lot of heat between this couple, possibly they will reconcile.
Have you ever felt like making a grand gesture with a sign?
See More:
Commit No Nuisance: Five Great British Scolding Signs
You've Been Warned: British Pub Notices
Funny British Road Signs
Read More
Filed Under: