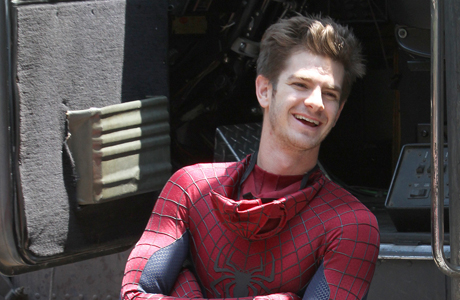 Some people may still be getting used to Andrew Garfield as the new Spider-Man but let's face it, Tobey Maguire has hung up his tights and Garfield is the new web-slinger in town.
In the trailer for The Amazing Spider-Man 2 we catch up with Peter Parker, sitting on the edge of a skyscraper, still grappling with his responsibilities, thinking to himself, "Every day I wake up knowing that the more people I try to save, the more enemies I will make. It's just a matter of time that I face those with more power that I can overcome."
Comeon' Parker, by this time we'd think you'd have this "job" down. We suggest getting out of his head and focus on the big bad Electro (Jamie Foxx) who has no qualms with his role in life … taking over New York City's power supply.
Or, Parker can take some time off to meet up with his main hang Gwen Stacy, played by real life romantic interest Emma Stone (The Help).
Fellow Brit Felicity Jones (The Invisible Woman) is reportedly appearing in the film, and is listed as a cast member, but we don't see her in the trailer. Check out what Jones had to say about her role here.
You can check out Garfield in all his Spideyness in the trailer below:
Spider-Man 2 hits U.S. theaters on May 2, 2014.
Are you a fan of the Marvel series?
See More: 
Emma Stone Needs to Read Anglophenia 
The 'Spider-Man' Reboot: What's the Point?
Felicity Jones Lets the Cat out of the Bag on 'The Amazing Spider-Man 2'
Read More
Filed Under: