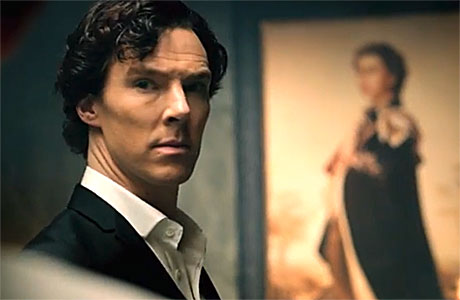 Well this is a very satisfying thing indeed.
Welcome to the new Sherlock trailer, in which all the suspense and tension, all the playful clue-dropping and hashtaggery is dropped in favor of some decent, old fashioned clips. Clips that include dialogue, clips that reveal how each of the key players in the Sherlock saga have weathered the two years since he took a leap off that roof and managed to hit the ground walking.
But let's face facts, you're not reading this bit anyway. You came to watch a trailer, and a trailer you shall have.
Incidentally, there is a very good interview with both Martin Freeman, Mark Gatiss and Benedict Cumberbatch over at Radio Times, discussing the imminent arrival of Season Three.
Definitely worth a look, if you can tear yourself away.
See more: 
WATCH: Benedict Cumberbatch Delivers R Kelly's 'Black Panties'
New 'Sherlock' Mini-Episode Due On Christmas Day
Britain Is Blessed With FIVE Baby Sherlocks
Benedict Cumberbatch: "Everyone Wants Complicated Antiheroes"
Read More
Filed Under: