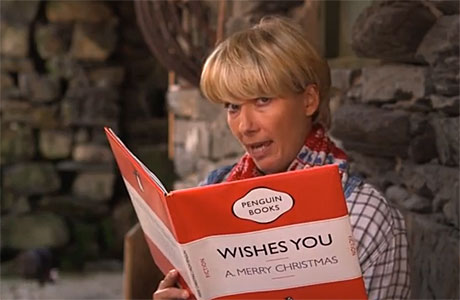 Looking for a particularly anglophile way to get the festive season started? Well why not try this…
Penguin Books has commissioned this delightful video, in which Emma Thompson starts (and finishes) a celebrity read-through of Clement Clarke Moore's The Night Before Christmas. She's joined by fellow celebrity Penguin authors, such as Richard Curtis and Jennifer Saunders, to take a couple of lines each.
As an exercise in ensemble delivery of a text, it's interesting to note who is good and who is not good. Emma is clearly the best, of course, but Charlie Higson does rather well, as do Graham Nash, Cerys Matthews and Jeremy Paxman.
Malcolm Gladwell, on the other hand, mis-rhymes 'roof' and 'hoof,' and Jamie Oliver reads as if language is not his first language.
Which just goes to show: reading stuff aloud is not as easy as it looks.
See more:
Colin Firth And Hugh Bonneville To Star In 'Paddington Bear' Movie
Saluting 'Love Actually' on Its Tenth Anniversary
New Yorkers: Emma Thompson Is Heading To Your Town
WATCH: Emma Thompson Hunts Peter Rabbit
Read More
Filed Under: