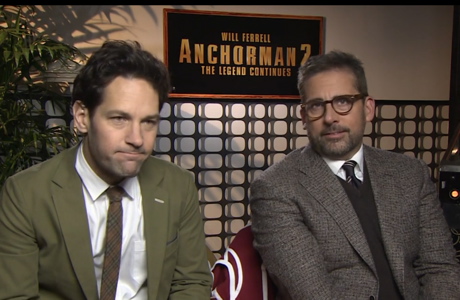 Steve Carell says he watches Top Gear "all the time" and wants to be a Star in a Reasonably Priced Car. That's what he told TopGear.com in an interview to promote his new movie Anchorman 2: The Legend Continues. Fellow cast members Will Ferrell, David Koechner and Paul Rudd also sat down with TopGear.com:
On next week's James May's Man Lab, James tries to enlist any tools he can—ranging from modern technology to mysticism—to find his father's wedding ring. James May, Sr. lost the ring some 40 years ago on Sandbanks Beach, a famous seaside peninsula on the English Channel in Dorset.
James consults a geomorphologist, teams of folks with metal detectors, divers and many others in his quest, all proving a saying James got from a professional "findologist": "There are no missing objects—only unsystematic searches."
"Tutankhamen's tomb, the Dead Sea scrolls, the Rosetta stone—all of them will seem like things found in a kitchen drawer compared with the rediscovery of May Sr.'s nine-carat ring," James says.
Also on the show, which airs Monday, is James' attempt to combat junk mail. In his battle, he's aided by an ingenious device that involves a model train.
• Speaking of model trains, you can catch James' program "The Great Toy Train Race," part of James May's Toy Stories, next Monday afternoon. In Toy Stories, James sets out to prove points about toys by building them large, as close to life-size as possible and then seeing what they'll do. In the show, which premieres next Monday at 2p/1c, James tries to build the longest-ever model railway track.
• Trains clearly hold a fascination for James May. Earlier this year May did two segments for his science-oriented web show Head Squeeze that focus on his love of trains. In the first, he answers the question: why are trains great? Hint: One answer involves some pretty negative comments about cars. "Cars in reality are pretty slow, they're just convenient. I know I shouldn't say that, I work on a car show," May says. "Trains and light aircraft whoop their asses."
Also, in another segment, James explains why trains can't go uphill:
• In his new book, On the Road: Growing up in Eight Journeys – My Early Years, Richard Hammond discusses travel and road trips he made in his younger years and the emotional impact those trips had—and continue to have—on him. He writes about what it was like to ride in the back seat of his parents' car, and then the memoir traces his growing independence behind various wheels. As he bicycled to school, he thought about the inner workings of the bicycle, he told the Metro. "As I got my first motorbike, it was a rebellion against the adult world as a 16-year-old," he said. "I was a maniac when I was 17 and got my first car—I'm not proud but I looked at what makes you drive like a maniac at that age."
The Hamster spoke to the BBC about the book:
• If you're still scratching your head at the demonstration of the Monty Hall Problem on last week's James May's Man Lab, you might want to take a look at this video, especially if you like you explanations offered with a British accent:
And if that doesn't satisfy your appetite, you might want to visit this website, which is an ongoing web demonstration of the problem, where you pick doors to reveal sheep or cars.
• Ever wonder what it's like to be on a racetrack in the same car with The Stig? Of course you have. Well, the folks at TopGear.com have developed an immersive online experience which they are tentatively calling 360-Degree Interactive Stig Power Lap Immersive Experience. Click here to take a look.
• The final five moments of Top Gear Top 41 air next Monday (Dec. 23, 9p/8c). Among the highlights: the Top Gear hosts' attempt at constructing their own space shuttle and an epic sea voyage in homemade amphibious cars.
Read More
Filed Under: