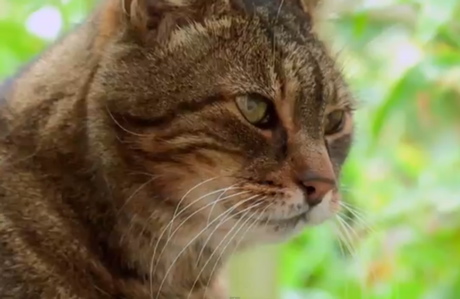 The phrase "herding cats" is commonly used to describe endeavors in which leaders or managers try to organize or coordinate individuals (like felines) who are inherently unable to be coerced into any sort of group activity.
So it shouldn't surprise anyone that herding cats is exactly what James May attempts to do in next week's episode of James May's Man Lab. Specifically, May is trying to create a neighborhood watch team made up entirely of cats wearing video cameras.
In Man Lab, now in its third season on BBC America, May attempts nothing less than to rescue the knowledge of how things work — wisdom lost to us, he says, because of all the conveniences of modern life.
In addition to seeing lots of cute cats (hey, you're reading this on the Internet, which probably wouldn't have ever really caught on without cat videos), you'll also be treated to such wordplay as "long arm of the claw," "POLICE-A-CAT-EMY" and "Agatha Kitties" in describing the feline auxiliary corps.
It's also useful to point out that James isn't the first person ever to try his hand at herding cats. In fact, just three years ago, IKEA in Britain unleashed 100 cats into its store at Wembley to make this commercial:
Of course, there was also a "making of" video:
And there's probably no way we can discuss herding cats and ads without bringing up the famous "herding cats" commercial, which aired in 2000, for the IT company EDS:
Next week's James May's Man Lab premiers Monday Dec. 9, 10p/9c.
• Jeremy Clarkson is a guest on this Saturday's Graham Norton Show, along with TV personality Sharon Osbourne, actor Colin Farrell and comedian Jo Brand. Among other topics, Norton asks Clarkson whether his opinions have ever gotten him into trouble.
Watch the full show this Saturday, December 7, 10p/9c.
• The boys have been traveling: in the past two weeks, they've been in Turkey and the Ukraine. We learned about the visit to Turkey from Jeremy Clarkson's twitter feed: "If anyone sees @MrJamesMay and me in Istanbul this evening, we're on our way to a job," Clarkson tweeted. "It's not a date or anything." Saying that he and May were only in Istanbul for one night, he announced that "we shall meet Hammond at a secret location in another country to start work." But he also added this tweet about his dinner with May:
My dinner date with May has gone wrong pic.twitter.com/bx3yhCYYp5

— Jeremy Clarkson (@JeremyClarkson) November 20, 2013
Then, on November 24, Clarkson revealed the mystery location in a tweet: "People of the Ukraine. Thank you for a very warm welcome. Well, warm for me because I'm indoors." The next day, Jezza offered an historic photograph:
This is a photograph of Churchill, Roosevelt and Stalin taken outside the actual house in Yalta where they met. pic.twitter.com/AEDlxZzSIP

— Jeremy Clarkson (@JeremyClarkson) November 25, 2013
"British Top Gear trio gives Kyiv fans jolt of star power," was the headline in the Kyiv Post, when the hosts visited the Ukraine's capital city. "Anyone in the vicinity of the Premier Palace Hotel on the afternoon of Nov. 27 could have heard the excited screams of some 30 freezing fans, all fighting to get closer to the three British celebrities trapped in the center of the crowd," the paper wrote.
Jeremy announced, "I liked being in the Ukraine" and had this to tweet about Ukrainian fans:
All Top Gear fans in the Ukraine are equal. But some are more equal than others. pic.twitter.com/JN3ozh80Xd

— Jeremy Clarkson (@JeremyClarkson) November 27, 2013
There were reports that the Top Gear hosts also visited Chernobyl, along with this undated photo from justjezza on Tumblr, which says the photo is from Pripyat amusement park in Chernobyl.
And the hosts were also captured on video. Here are two news reports, in Russian:
• If you haven't checked out the newly redesigned BBC AMERICA Top Gear site, what are you waiting for? A formal invitation? Well, consider yourself invited – click here. While you're there, you can also see the photo gallery with all the winners from the Top Gear Top 41 photo caption contests.
• And finally, if you want to test yourself on your knowledge of all things Top Gear, you'll want to head on over to the Telegraph's Top Gear Quiz. A word of warning: it's not easy.
Read More
Filed Under: