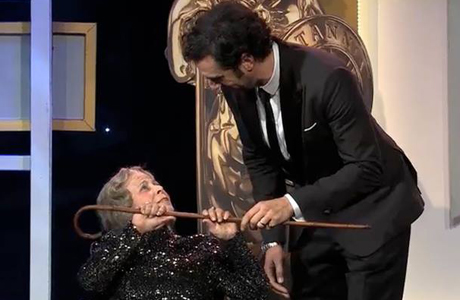 You've watched them, shared them, and probably GIF'd them all, but in case you missed some of the best celebrity moments of the year, or just want to watch them again and again, here's a comprehensive list of our personal favorites for your viewing pleasure. Some are Brits on American TV, others are Americans showing their more relaxed sides far away from U.S. eyes on British TV. (But what happens in Britain never stays in Britain, right?)
1. Benedict Cumberbatch on Jimmy Kimmel Live
The most recent viral video is this gem of Cumberbatch doing a reading of R. Kelly's "Genius."
2. Will and Jaden Smith on the The Graham Norton Show
They do the famous Fresh Prince rap with Jazzy Jeff, and then they "Jump on It" with Graham Norton and Alfonso Ribiero.

And last year on the show, Will Smith did the Fresh Prince rap with the audience with the help of Gary Barlow on the synthesizer. Watch here!
3. Sir Paul McCartney on Late Night with Jimmy Fallon

McCartney and Jimmy Fallon switch accents, Freaky Friday style.
4. BBC1's Chris Stark interviews Mila Kunis

And by interview, I mean they talk about pubs, beer preferences, football, and so on. If you aren't already in love with Mila Kunis, this might make you do so.
5. Tom Hiddleston impersonates Owen Wilson
Asking Tom Hiddleston to do impersonations has become a sort of real-life meme, and he nails them. Watch as he does Owen Wilson as Loki!
He has also been asked to do Avengers co-stars Chris Evans and Samuel L. Jackson.
6. Sacha Baron Cohen pushes an elderly woman off-stage.

Cohen decided it was a really good idea to prank everyone at the BAFTA Britannia Awards by pushing a wheelchair ridden woman off-stage to her "death." And it was a really really good idea.
7. Tom Hanks and Sandra Bullock on The Jonathan Ross Show

Jonathan Ross pulls out a big piano mat and Hanks and Bullock recreate the "Chopsticks" scene from Big. Brilliant.
 8. Benedict Cumberbatch as Chewbacca

Another Cumberbatch clip! His impression is so good, it leaves Han Solo (Harrison Ford) himself in disbelief.
9. Tom Hiddleston busts a move

Hiddleston was on South Korea's version of Saturday Night Live and showed the audience his best dance moves.
10. Finally, Prince William forms an impromptu supergroup with Taylor Swift and Jon Bon Jovi

For a bit of "Livin' On a Prayer," naturally.
What was your favorite British celebrity moment of the year?
See more:
WATCH: Orlando Bloom Sings 'They're Taking the Hobbits to Isengard' on the Set of 'The Hobbit'
WATCH: Wowsers in Me Trousers! How Baseball Would Sound If Brits Were Commentators
DON'T WATCH: British Man Films Himself Hanging One-Handed From A Crane
Read More
Filed Under: