Britons are getting creative in their holiday celebrations and it's all in the name of Christmas. We think. With the holiday madness, maybe it makes sense to double up on some efforts.
Check out some delightful, yet a little surprising, holiday pairings:
1. Pub & Ice Rink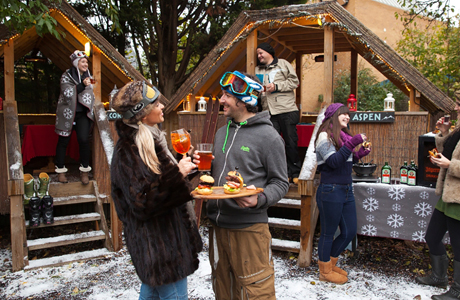 The Leather Bottle Pub & Dining, located at 538 Garratt Lane, Earlsfield, London, has made their back garden into an ice rink. When you hear "garden" it may sound quite quaint but they have a rather large space, which you can see here. You may have lived a chance-y childhood and sprayed down your backyard with a hose and then magically overnight, ta-dah, you have your very own, private ice arena. The pub describes their new addition as their "very own wonderland", offering rental skates and it's open to both adult and children. There is a small fee with it costing £5 per adult for 20 minutes and
£3 per child for 20 minutes. The rink will be set up throughout the month of December.
2. Christmas Tree & Kebab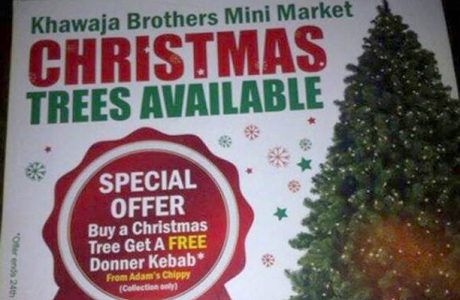 A market in Chorlton, Manchester, England, is offering a free kebab when you purchase a Christmas tree. Yup, that's right. You can fill your home and belly in one swoop. The Khawaja Brothers Mini Market, located at 63-65 Manchester Road, sells about 1,500 trees per season, and their sister business, Adam's Chippy, is located next door. The owners saw an opportunity for synergy and are offering a coupon for a free kebab. If you do get your kebab, keep a tight grasp, you don't want this happening:
3. Pudding & Running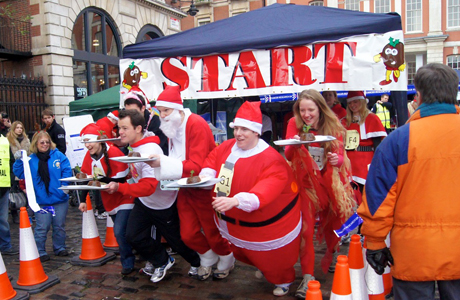 Similar to an egg and spoon race, the 33rd Great Christmas Pudding Race takes place in Covent Garden Market, Covent Garden, London, on December 7. This is a team effort and requires you to make up a team of six, with the proceeds going to the Cancer Research U.K. The call-to-action doesn't go the usual route and pull on people's heartstrings but is a little mischievous saying, "Want to see your boss dress up as Mickey Mouse running through a flying foam slalom?" Oh, we forgot to mention, in addition to running with pudding there are obstacles and apparently "fancy dress". If you can't quite picture this in your head, you don't need to, here's a video of what goes down:
Do you have anything going on like this in your neck of the woods? 
See More:
British Up Your Christmas Movie Watching  
British Up Your New Year's Toasts
10 Ways to British Up Your Christmas Holiday
Read More
Filed Under: