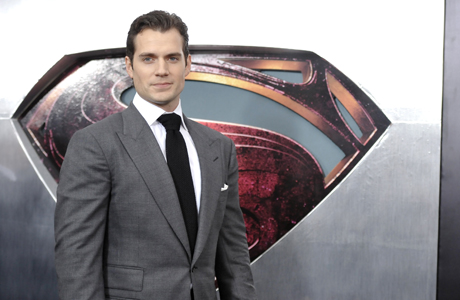 I know, I thought we had this whole sexy business sorted out already, but it seems there's been a sneaky recount, without any warning, and now suddenly not only is Benedict Cumberbatch not the sexiest man in the world, he's lucky to even be in the Top 5.
Glamour magazine polled over 95,000 people to get to what must surely be the final, definitive word in mansexiness forever (otherwise what would be the point?) and their results seem to suggest that Henry Cavill has swooped down from the sky in a blue and red blur to seize the title.
Which mean's he's twice as sexy as Robert Pattinson (No.2 on the list), three times as sexy as Liam Hemsworth (brother of Chris, and No.3), four times as sexy as Tom Hiddleston (I bet you didn't even know it was physically possible. I certainly didn't), and a ghast-flabbering FIVE times sexier than Benedict.
You can't argue with this, by the way. It's sexy math. There are laws.
Further down the exponential graph of celebrity attractiveness, we can see the relatively disgusting faces (again, science) of Chris Hemsworth, Idris Elba and Harry Styles, and what poor Matt Smith has done to deserve a lowly 19th place is beyond me.
(Mind you, he's done better than David Tennant, all the way down in 97th place).
Here's the full Top 20:
1. Henry Cavill
2. Robert Pattinson
3. Liam Hemsworth
4. Tom Hiddleston
5. Benedict Cumberbatch
6. Harry Styles
7. Chris Hemsworth
8. Idris Elba
9. Jamie Campbell Bower
10. Justin Bieber
11. Charlie Hunnam
12. Ian Somerhalder
13. Matt Bomer
14. Johnny Depp
15. Olly Murs
16. Michael Fassbender
17. Channing Tatum
18. Rafael Nadal
19. Matt Smith
20. Robert Downey Jnr
See more:
It's Official: Benedict Cumberbatch and Emma Watson Own Sexiness
It's Official: David Bowie Is A Better Dresser Than Elizabeth I
It's Official: We've All Watched 'Ghostbusters' Too Many Times…
It's Official: 'Skyfall' Is Bigger Than 'Avatar'
Read More
Filed Under: