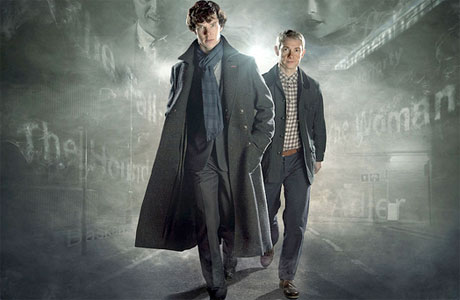 Steven Moffat and Mark Gatiss do like their mini-episodes, doesn't he? "The Night of the Doctor," "Pond-Life," all those updates from Strax on the Doctor Who YouTube channel…
And now he's applying the same approach to the returning Sherlock, which airs on British screens on New Year's Day, and hits PBS on January 19. A new mini-episode of Sherlock will be released on Christmas Day (via the usual channels), entitled "Many Happy Returns," set two years after the unpleasant events at the end of "The Reichenbach Fall."
Here's the BBC One tweet confirming the news:
In addition to our Christmas schedule announcements, we can also confirm that we have a #Sherlock mini episode called 'Many Happy Returns'.

— BBC One (@BBCOne) December 3, 2013
And the rest of the details, such as they are:
"#Sherlock has been gone for 2 years. But someone isn't quite convinced that he's dead." Many Happy Returns will be available this Christmas

— BBC One (@BBCOne) December 3, 2013
It would be tempting to say something at this point along the lines of "what can it all mean?" or "the plot thickens," but quite apart from being redundant (and cliches), these questions are what Sherlock is supposed to be about, so it's tautologous too.
Patience will take us to the things we need to see, soon enough, my friends. For everything else there is YouTube.
See more:
Britain Is Blessed With FIVE Baby Sherlocks
Benedict Cumberbatch: "Everyone Wants Complicated Antiheroes"
Now THIS Is How You Announce A Comeback! #SherlockLives
'Sherlock' to Premiere Jan. 19 on PBS, Air Back-to-Back with 'Downton'
Read More
Filed Under: