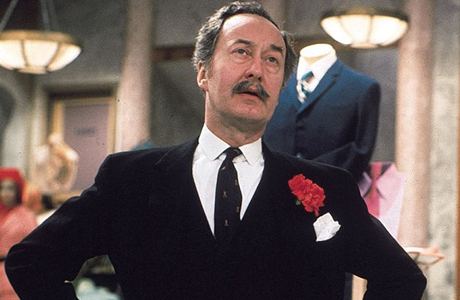 2013 was a wonderful year of anniversaries and milestones in British pop culture, but we would be remiss if we didn't reflect on the passings of some remarkable Brits over the past 12 months. Here's a partial list of U.K. figures we lost this year, with clips.
Margaret Thatcher
Few world leaders have inspired as many passionate opinions as Baronness Thatcher, who served as Britain's Prime Minister from 1979 to 1990. And few have inspired as many memorable pop culture moments, from the Spitting Image spoofs to the countless rock songs to Meryl Streep's Oscar-winning portrayal of her rise to power and later years of illness in The Iron Lady. Thatcher died at age 87 on April 8.
Peter O'Toole
His hard-drinking, hard-fighting contemporaries—Richard Burton, Oliver Reed, Richard Harris, Alan Bates—had already left us many years ago. Geniuses, the lot of them, but the stunningly handsome O'Toole stood out even among those talents, having scored international success nearly straight out of the gate. 1962's Lawrence of Arabia introduced us to the commanding, irascible, deeply intelligent persona that would define his career, but as his eight career Oscar nominations over 44 years showed, he never lacked for showcases of his brilliance. He died at age 81 in December.
Sir David Frost
It's easy to forget the debt modern British comedy owes to Frost, who was known as a comedian and satirist prior to his career as probing interviewer. His early '60s series That Was the Week That Was was sort of a proto-Daily Show, skewering the political scandals of the day, and the Two Ronnies and John Cleese all got their starts on his watch. But it was his revealing 1977 interview with disgraced former U.S. president Richard Nixon that earned him his enduring, international reputation.
http://www.youtube.com/watch?v=2c4DBXFDOtg
Doris Lessing
The Nobel Prize-winning novelist, who died at 94 in November, covered a lot of ground in her career, both literally and figuratively. Born in Persia to two Brits, she lived in what is now known as Zimbabwe until she was 30, when she moved to London. She published her first novel the year later, in 1950. Her literary output swerved stylistically, even venturing into science fiction, but she was always politically engaged. 1962's The Golden Notebook remaining her most celebrated piece, inventively telling the story of a single mom suffering from writer's block who journals her life in four notebooks.
And it doesn't get better than Lessing's charmingly dismissive, very British reaction to her Nobel victory back in 2007:
Richard Griffiths
The portly Griffiths enjoyed a career that spanned nearly 40 years, with his greatest fame and acclaim coming in the past decade with his Tony- and Olivier-winning part as Hector, an eccentric boys' school teacher, in the London and Broadway stage productions and subsequent film adaptation of The History Boys, and his role as Harry Potter's uncle Vernon in the film series. But I'll always have my greatest soft spot for Griffiths' lecherous, poetry-spouting Uncle Monty in the classic 1987 film Withnail & I. ("I mean to have you even if it must be burglary!") Griiffiths died unexpectedly, at age 65, after heart surgery in March.
Joan Fontaine
Born in Japan to British parents and raised in America, Fontaine might stretch the definition of "British" culturally, but as an actress of the silver screen in the '40s and '50s, she was defined by her "cool blonde" roles in British-set films like Sir Alfred Hitchcock's Rebecca (opposite Sir Laurence Olivier) and Suspicion (for which she won a Best Actress Oscar). She was as much known for her acting as her highly-publicized rivalry with her fellow actress sister Olivia De Havilland, who survived her. Fontaine died at age 96 in December.
Alan Whicker
Whicker was a beloved journalist over six decades in the U.K., his travels around the globe and in-depth interviews documented in his series Whicker's World, which ran from 1959 to 1988. Monty Python infamously spoofed his persona with their "Whicker Island" sketches, but mockery was the ultimate form of flattery: Python member Michael Palin eventually followed in his globe-trotting footsteps. "Alan Whicker was a great character, a great traveler and an excellent reporter," Palin told the BBC in tribute. "He was absolutely at the top of his game in front of the camera."
Raymond Cusick
Who knew that oversize pepper shakers with plungers attached could be so nightmare-inducing? And would we still be talking about Doctor Who 50 years after their creation without them? Designer Raymond Cusick devised these gliding villains in 1963, capturing the imagination of millions of Britons and making the show a true mainstream phenomenon. (Fun fact: future film director Ridley Scott was originally assigned to design the Daleks, but bowed out due to scheduling conflicts.) Cusick lived to see his Daleks resurrected with modern Who in 2005, spooking a whole new generation of fans. He died aged 84 back in February.
Frank Thornton
Thornton's many credits included 1966's A Funny Thing Happened on the Way to the Forum and the long-running The Last of the Summer Wine, in which he played Herbert Truelove. But he will always be best-known for playing the pompous floorwalker Captain Peacock on the bawdy '70s British sitcom Are You Being Served?. Thornton died at age 92 in London back in March.
Richard Briers
Briers starred in the wildly popular '70s sitcom The Good Life, in which he played a dissatisfied white-collar worker who, along with his wife, adopts a self-sufficient life, turning their suburban garden into a farm. He also contributed voiceover work for the cartoon Roobarb and the film Watership Down. His most notable later work came as Hector, Laird of Glenbogle in Monarch of the Glen. Briers died at 79 in February.
Bill Pertwee
"Put that light out!" That was the catchphrase of Pertwee's character Warden Hodges in the '70s sitcom Dad's Army, which told the story of the often-bumbling, aging volunteers left to protect a British seaside town while the young and able-bodied were off fighting World War II. Hodges was the stodgy, laughable tyrant slightly drunken on his newfound power. Pertwee, a distant cousin of Doctor Who's Jon Pertwee, died at age 86 in May.
Lewis Collins
The Professionals actor, who plays tough Bodie on the 1977-83 series, died in November at age 67 after a lengthy battle with cancer. After his success on the Professionals, he reportedly auditioned to replace Roger Moore as James Bond but said producer Albert Broccoli thought he was "too aggressive" for the posh part.

Peter Gilmore
Gilmore, with his ginger mutton chops and gruff demeanor, was one of the U.K.'s most popular leading men in the '70s. In The Onedin Line, the BBC series that ran from 1971 to 1980, he was a poor seafarer who fulfills his dreams of owning his own ship through marrying a tart-tongued Plain Jane, played by Anne Stallybrass (whom Gilmore would later marry in real life), and over eight seasons, viewers saw him evolve into a shrewd sea captain and patriarch. He died at 81 back in February. (Fact: his first wife was Una Stubbs of Sherlock fame.)
Robin Sachs
Sachs, a veteran actor and voice talent from numerous science fiction/fantasy films, died just four days short of his 62nd birthday in February this year. He was known to Buffy the Vampire Slayer fans for his role as Ethan Rayne, Giles' nemesis. He died in February at 61.
http://www.youtube.com/watch?v=Df_vSBPmvA4
Reg Presley
The frontman for the British '60s band The Troggs—best known for their ubiquitous hit cover of "Wild Thing" in 1966—succumbed to lung cancer earlier this year at age 71.
Kevin Ayers
Ayers was singer, bassist and co-founded of the British psychedelic band Soft Machine, which formed in the mid-'60s and toured with the Jimi Hendrix Experience in the U.S. Ayers left in 1968 and became an influential cult figure, working with the likes of Brian Eno in the '70s prog rock scene. Ayers died in his sleep at age 68 back in February.
Aubrey Woods
If you saw the 1971 classic Willy Wonka and the Chocolate Factory and couldn't get "The candy man can!" out of your head, blame Aubrey Woods, the inimitable actor who performed that memorable number in the film. Doctor Who fans will also recognize him as the Controller from the Jon Pertwee serial "Day of the Daleks." He died in May at age 85.
See more:
Top Gear Thursday: 10 Best 'Top Gear' Moments of 2013
Top 12 Fandom-Related Viral Videos of 2013
Read More
Filed Under: