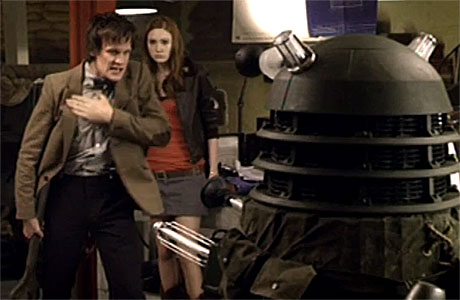 The story of the Doctor's character is the story of a sometimes prickly, usually charming man who, in the normal run of things, is incredibly reluctant to drop his mask and reveal the tumultuous emotions bubbling underneath. No matter which incarnation you pick, he's a man of poise, wit and self-depreciation. He is not a man that is usually quick to anger.
Which makes these moments in which the Eleventh Doctor truly loses control all the more startling. Especially as you know he is capable of practically anything, and that his moral compass occasionally needs resetting by his human companions.
"Colonel Run-Away"
This moment exists in two parts, the cold fury that quickly becomes hot fury, in which an artful moment of revenge suddenly curdles as the Doctor realises his emotions are starting to overtake him, and the cold appearance of Madame Kovarian, in which it becomes clear that for all the bluster, the Doctor does not consider himself to be a good man at all.
Why else would he need all those rules?
"You are my enemy, and I am yours"
Because there's something quite scary about seeing the Doctor—who prizes intellect and sharp thinking above all things—lashing out with a massive spanner.
"Tell me who you are"
The Doctor likes a challenge. He likes to be left to figure things out on his own with no clues or help from anyone else. But when he gets stuck, when he's taken his current travelling companion to psychics and travelled into her past to watch her grow up and he still can't figure out how she came to be the girl in the Dalek and the girl in the Victorian dress, both of whom died, well that just drives him nuts. Scarily nuts, actually.
"Today I honor the victims first"
It's just as well Amy is there to provide a bit of comic relief with her terrible gunspersonship, otherwise it's not clear what the Doctor would do, having found out that kindly Jex is a scientist that used genetic experimentation to win a civil war on his planet, not unlike a certain one-eyed Skaronian. It's that background that underpins his hysteria. He had the chance to end the Daleks before they even began, and having decided to show mercy, his entire race was wiped out. So now, standing on the literal outskirts of Mercy (the town), he tries to make amends. But of course that's not the kind of guy he is, and it all gets a bit messy once Amy starts waving her gun around.
And this, the motherlode (albeit in a fan-clip form)…
"Take it all, baby!"
Not so much a loss of cool as a complete unravelling. Fury and self-pity combined to kick a parasite planet where it hurts. The Doctor's view of himself becoming less and less rosy with every word, and the force of his disgust being hurled outwards.
That this preening, screaming collapse is set against a carol of universal comfort just makes it all the more of a wrench to watch. It's as if the Doctor is screaming "HAS IT COME TO THIS? I HAVE TO JUST SHOW YOU EVERYTHING I'VE DONE AND THAT'S ENOUGH TO DEFEAT YOU? I AM SICK OF YOU DESPOTS AND VILLAINS! YOU HAVE IT SO EASY, ALL YOU HAVE TO DO IS TAKE! YOU NEVER HAVE TO BUILD ANYTHING OR REASSURE ANYONE AND YOU FOLD AS SOON AS SOMEONE COMES ALONG WITH HALF A BRAIN AND A DECENT PAIR OF SHOES! YOU SHOULD TRY IT FROM WHERE I'M STANDING… WELL, STAGGERING… AND SEE HOW YOU LIKE IT!"
Maybe they should have started the song again after he'd finished.
See more:
'Doctor Who': The Fury Of A Time Lord
Matt Smith: Five Moments When The Doctor Broke Our Hearts
Five Great Big Meaty Matt Smith Speeches From 'Doctor Who'
Five Reasons Matt Smith Was Born to Play the Doctor


Read More
Filed Under: