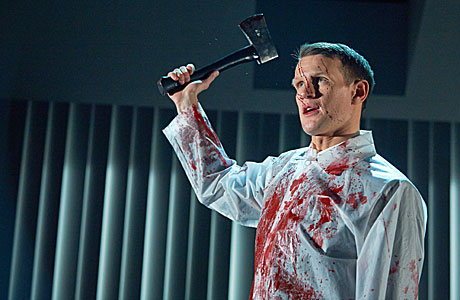 The first preview pics are in for Matt Smith's performance as the singularly amoral and fastidious yuppie (plus part-time serial killer) Patrick Bateman, in the musical version of Brett Easton Ellis's dark satirical novel American Psycho.
As you can see, the suits are perfect, the look is classic '80s business power, and the axes are sharpened to a lethal edge.
The production begins on Thursday night (December 12) at London's Almeida theatre, and will run until January 25, with Matt being joined onstage by Ben Aldridge, Charlie Anson, Jonathan Bailey, Katie Brayben, Cassandra Compton, Holly Dale Spencer, Susannah Fielding, Simon Gregor, Holly James, Lucie Jones, Tom Kay, Gillian Kirkpatrick, Eugene McCoy and Hugh Skinner.
It's the story of an obsessive. The inner monologue of a man who values the perfect business card, the right suits, the right places to eat, the airbrushed perfection of '80s pop music…
… but has no compunction whatsoever about performing all manner of unspeakable acts towards anyone that fails to meet his standards.
And, just an FYI, that includes everyone: from business rivals to women in bars, to homeless beggars on the street…
And, let's not forget, it's a musical, which means there's also a lot of THIS:
American Psycho is directed by Rupert Goold. The book has been adapted for the stage by Roberto Aguirre Sacasa, with music and lyrics by Duncan Sheik.
See more:
'Doctor Who' Celebration Panel Focuses on Matt Smith's Departure, 50th Anniversary
'Doctor Who': A Companion To The Eleventh Doctor
Matt Smith To Star In 'American Psycho: The Musical'
Brit Binge: Five Political Dramas You Can View Online
Read More
Filed Under: