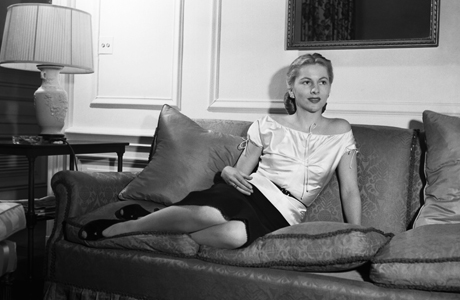 Joan Fontaine, British silver screen star and one of Alfred Hitchcock's most notable "cool blondes," has died at age 96 today (December 15), BBC NEWS is reporting. She rose to fame in the '40s with roles in Hitchcock's Rebecca (1940) and Suspicion (1941), winning a Best Actress Academy Award for the latter and becoming the sole actress to win an Oscar for a performance directed by the legendary filmmaker.
Born Joan de Beauvoir de Havilland, Fontaine was also well-known for her fractured relationship with her older, twice Oscar-winning sister, Olivia De Havilland of Gone With the Wind fame. The siblings stopped speaking in the '70s. Here's an interview from CBC TV in 1979 in which she explains their feud, her childhood, and her lack of stable romantic relationships:
It's been a sad weekend for fans of screen legends from the British Isles: Peter O'Toole died on Saturday at age 81. As we did with O'Toole's filmography, let's take a look back at Fontaine's career with trailers from her best films.
Rebecca, 1940
Suspicion, 1941
The Constant Nymph, 1943
Jane Eyre, 1944
The Affairs of Susan, 1945
http://www.youtube.com/watch?v=atWn8v23xWs
Ivy, 1947
http://www.youtube.com/watch?v=Lh2vwPvCuKI
Letter From an Unknown Woman, 1948
The Emperor Waltz, 1948
http://www.youtube.com/watch?v=yAKAcINivpQ
Kiss the Blood Off My Hands, 1948
http://www.youtube.com/watch?v=sg5EUhGXwGw
September Affair, 1950
Ivanhoe, 1952
Island in the Sun, 1957
See more:
Brit Binge Watching: Five Classics You Can View on Netflix
Five 'Secretly British' Stars of the Silver Screen
Read More
Filed Under: