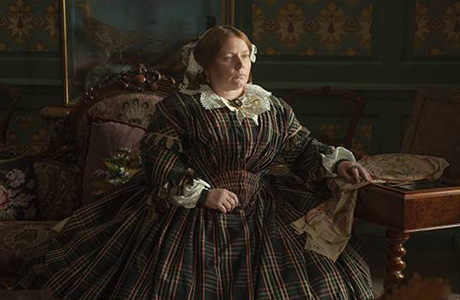 Comic actress Joanna Scanlan is anything but invisible in The Invisible Woman, her new movie opening in U.S. theaters on Dec. 25.
A full-figured gal, she gets resplendently naked in the biopic about 19th century novelist Charles Dickens. Ralph Fiennes, who also directed, plays the author.
"The nude scene was in the script. It didn't concern me particularly at all," says Scanlan, 52, who is best known for her achingly funny performances as a regular in such smart British comedy series as The Thick of It, Getting On and Heading Out.
The Invisible Woman, written by Abi Morgan (The Iron Lady), tells the story of what happened when a middle-aged Dickens, then at the height of his fame, embarked on an intense affair with a teenage actress, Ellen Ternan (played by Felicity Jones). Scanlan is cast as Catherine Hogarth Dickens, the novelist's longtime wife and the mother to his large brood.
Why agree to casting off her crinolines on screen? "I felt it was important in the overall story to place Catherine and show the contrast," says the Welsh-born actress, speaking by phone from London. "This woman has had ten children and she's been pregnant for most of her life. She's gotten old and fat and there's Dickens falling for a beautiful, nubile young spirit."
She continues, "I don't have the excuse that Catherine did–I haven't had ten children–but I felt it was important to show a real woman's body in middle age. There's a tenderness in that, just the fact of it, and I felt perfectly comfortable showing that."
It's her impressive dramatic acting, however, that's winning rave notices for Scanlan in Invisible Woman. Though she appears in only a few scenes, critics have singled her out in early reviews for praise.
Reviewing in Variety, Scott Foundas wrote, "The exceptional Scanlan (a Brit TV vet whose film credits include Notes on a Scandal) at first seems to be playing the bosomy Mrs. Dickens as a rather unfortunate scold from whom the writer would be fortunate to escape, but over her handful of scenes she deepens and humanizes the character until she emerges as a surprisingly tragic figure."
Here's a trailer for the film:
Scanlan is both surprised and delighted by the attention she has been receiving for this change-of-pace part. "It's a very small role in terms of screen time but has a dramatic position so people do take account when you come on the screen. I've played many, many parts of equal size but not of equal stature," she says, adding that she hopes that her work in Invisible Woman will lead to more movie roles.
As a history major who specialized in 19th century British social history while at Cambridge University, Scanlan had a deep understanding of the film's era but purposefully didn't extensively research her character ahead of shooting. "I thought the less I know about the historical truth of Catherine Dickens' position, the better," she says. "Playing the part was all about immersing myself in the emotional reality, not in the historical fact." (She did read up on Catherine once filming was completed and found her story "amazingly interesting.")
Here's a charming on-camera interview with Scanlan on the red carpet at the New York Film Festival last fall in which she talks about how she prepared for the role:
Even before she made Invisible Woman, Scanlan was well acquainted with Dickens' work and lists Oliver Twist as her favorite of his novels. "It's the one I'm pulled back to again and again," she says. "I don't think it's the greatest of his books–Great Expectations is probably the best in literary terms–but I'm always touched by the characters and the story. I'm not the least sentimental but the tragic end of the dog–poor Bullseye–well, I can't get over that." (If it has been a while since you read Oliver Twist, Bullseye is a pet terrier belonging to murderer Bill Sikes.)
She's an even bigger fan of Wilkie Collins, Dickens' friend and fellow novelist, who also appears as a character in Invisible Woman. (Rev's Tom Hollander portrays Collins.) Her favorite book by Collins? Armadale, which she describes as a page-turner featuring an epically evil heroine who eventually finds redemption. "The book is quite thick," Scanlan warns. "You want to settle down with it on a Sunday or a holiday."
In addition to Invisible Woman, Scanlan's name recently has been turning up on the opening credits of HBO's Getting On. That's the new U.S. remake of the popular BBC Four (and BBC America) comedy about workers at a hospital ward of the National Health Service. Scanlan co-created and starred in the British version of Getting On alongside Jo Brand and Vicki Pepperdine. All three women are listed as executive producers on the HBO version.
It's not just a courtesy title. "We were able to comment on the scripts and help develop them a bit. It's difficult when you're this far away to be really actively involved but we feel very, very positive about what they've done with the show. It's been a very good relationship," says Scanlan.
Here's a classic clip featuring Scanlan and Brand in the original Getting On:
Do you want to see Joanna Scanlan in The Invisible Woman?
See More:
Britain's Funniest Females: Who Are They? 
New York Film Festival to Honor Ralph Fiennes
HBO's Newest British Remake 'Getting On' Starts Sunday
Read More
Filed Under: