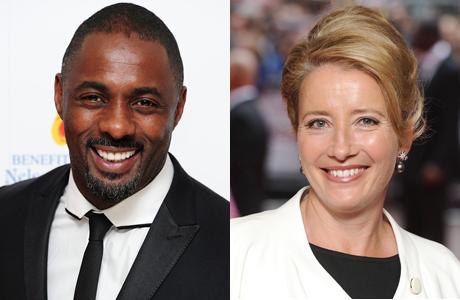 What goes with red? That's the question any number of British stars are asking themselves as they select outfits in which to walk the red carpet during awards season.
The awards show marathon began officially a week ago when the Gotham Awards, which recognize work in American independent films, were handed out on Dec. 2 in New York. The New York Film Critics Circle voted the next day and the National Board of Review a day after that. The prize orgy will continue, with one congratulatory event after another, until Oscars are awarded on March 2.
Brits are very much in the running this year, with Emma Thompson already nabbing the Best Actress prize from the National Board of Review for her hilarious and yet touching turn as sourpuss, Mary Poppins author P.L. Travers in Saving Mr. Banks (opening Dec. 13) and Steve McQueen winning Best Director from the New York Film Critics for 12 Years a Slave.
Here's a primer on which British stars are likely to become red carpet regulars this season. The following all have a decent chance of making the rounds as nominees at the Golden Globes (Jan. 12) and other upcoming awards extravaganzas, including the main event, the Academy Awards:
Best Actor:
Chiwetel Ejiofor is a sure bet for recognition for his moving performance as a pre-Civil War era freeman who is kidnapped and sold as a slave in 12 Years a Slave. If he gets an Oscar nod, it will be Ejiofor's first time being nominated.
Christian Bale is a double threat, with standout performances in American Hustle (opening Dec. TK) and Out of the Furnace. He already won an Oscar for Best Supporting Actor for The Fighter (2010).
Idris Elba, aided by timely sentiment, will likely get some awards love for his portrayal of the late Nelson Mandela in the just released biopic, Mandela: Long Walk to Freedom. 
Best Actress:
Emma Thompson's first role in a major Hollywood film in years in Saving Mr. Banks is likely to propel her to the front ranks of contenders, and not just because everyone knows that she gives such delightfully witty and charming acceptance speeches. She remains the only person to win Oscars both as Best Actress (for 1992's Howard's End) and Writing (1995's Sense and Sensibility), as well as having earned two other acting nominations.
Dame Judi Dench, who won a Best Supporting Oscar for Shakespeare in Love (1998) and has five additional nominations, should be in the thick of the awards competition thanks to her knockout performance as an older Irish woman attempting to find the son she gave up for adoption decades earlier in Philomena.
Kate Winslet has gotten terrific advance reviews for her performance as a single mother who provides shelter for an escaped con in Labor Day (opening in limited release on Dec. 27). She already possesses an Oscar for The Reader (2008) and holds five additional nominations.
Best Supporting Actor:
Michael Fassbender, the Irish-German actor, offered a strong performance as a loathsome southern plantation owner in 12 Years a Slave that will likely be recognized. If he gets an Oscar nomination, it will be his first.
Steve Coogan for Philomena. Unlikely though it may seem given his fame as a comic actor, the British funnyman could end up being nominated for playing it straight as an investigative reporter who helps out Judi Dench's character. Coogan also cowrote the film's screenplay. The actor has won a clutch of BAFTA awards and nominations for his TV work but has never received an Oscar nomination.
David Oyelowo, the fast-rising British actor, may get shoutouts for his compelling performance as a committed civil rights activist in Lee Daniels' The Butler. If he finds himself nominated for an Oscar, it would be his first time.
 Best Supporting Actress:
Naomie Harris, already hot thanks to last year's Skyfall, earned stellar reviews for her turn as Winnie Mandela in Mandela: A Long Walk to Freedom, propelling her into the awards mix. If she gets an Oscar nod, it would be her first nomination.
Sally Hawkins is getting mentions in awards talk for her hilarious performance as Cate Blanchett's down-to-earth sister in Blue Jasmine. While she won several other prizes for her starring role in Happy-Go-Lucky (2008), she has never received an Academy Award nomination.
Carey Mulligan has an outside chance of landing on a few awards lists for either of her two notable performances this year, as Daisy Buchanan in Gatsby or as a sullen '60s folk singer in Inside Llewyn Davis.
Finally, sorry Benedict Cumberbatch fans, but it doesn't look as if the very busy, busy, busy star is in the running for any awards affection this year despite having starred in five movies. But, given how many movies he's making that open in 2014, there's always next year.
Which British star would you like to see win an Oscar this year?
Join Anglophenia's Tom Brook on the @MindTheGap_BBCA Twitter Wednesday (December 11) at 2 pm ET to discuss the British award season and Thursday's Golden Globe nominations. Tweet your favorite films this year using hashtag #MindTheChat.
See More:
10 Must-See Moments from the 2013 Britannia Awards
WATCH: Chiwetel Ejiofor on the Brutality in '12 Years a Slave'
First Look: Christian Bale in 'Out of the Furnace'
WATCH: Idris Elba's First Trailer For 'Mandela: Long Walk To Freedom'
First Look: Emma Thompson as 'Mary Poppins' Author P.L. Travers
WATCH: Steve Coogan and Judi Dench Team Up For 'Philomena'
Kate Winslet Stars Opposite Josh Brolin in 'Labor Day'
Read More
Filed Under: