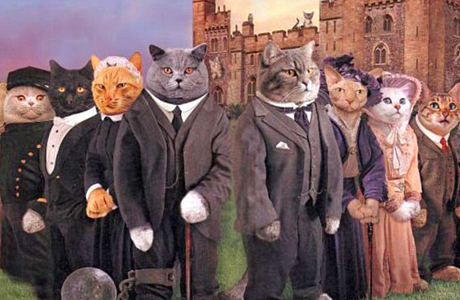 If you thought Lady Mary and Lady Edith were catty toward each other in Downton Abbey, wait until you meet their feline versions in Downton Tabby.
That's a new book that spoofs the popular British TV series by populating the show's titular manse with costumed cats, both upstairs and down.
Downton Tabby, an illustrated, 80-page parody by comic writer Chris Kelly, is being published on Dec. 3 by Simon & Schuster with a list price of $10.
Paging through it will give hardcore Downton fans in the U.S. something to amuse themselves with until the show's fourth season begins airing on PBS's Masterpiece Classic on Jan. 5.
The book revolves around the Grimalkins, an aristocratic family of cats. Per the publisher's promotional copy, at Downton Tabby "the aristocrats of the animal kingdom dwell in stately splendor, sleeping, grooming, sleeping some more, and being fed by their downstairs cats, unaware that their way of life—providing work for others—is about to be swept away by the tides of history . . . and runaway cars. The fur will fly."
Many of the period drama's familiar characters turn up in the volume, but in the guise of cats. In Downton Tabby, the Dowager (so memorably played in the human version by Dame Maggie Smith) can be found uttering such snippy zingers as, "Never eat your own fur in a month without an 'r' in it" and "I poop in this shoe not because it is easy, but because it is difficult."
Kelly, the book's author, writes for HBO's Real Time with Bill Maher and was previously at the Late Show with David Letterman and Politically Incorrect, and earlier worked as an editor at Spy and National Lampoon magazines.
The book is not to be confused with this earlier Downton Tabby video parody (warning: NSFW!], which was posted on YouTube last year:
Is your cat upstairs or downstairs? 
See More:
'Downton Abbey' Quiz: Are You Upstairs or Downstairs?
WATCH: First Trailer For 'Downton Abbey' Season Four
'Downton Abbey's Michelle Dockery Bares Her Bear Face
'Downton Abbey' Gets Renewal for Fifth Season
Read More
Filed Under: