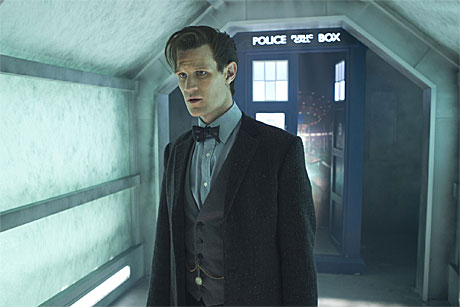 A hugely exciting gallery of new images taken from 'The Time of the Doctor' has been put up on the Doctor Who website, and as with any set of images shorn of any context to help tell the story, they're a little confusing at first glance.
So, here's a quick look at them all, and an attempt to work out what is going on (without giving away what is actually going on, because of spoilers).
We begin with the Doctor waving a Dalek eyestalk in the air, and with all that smoke in the background, the curiously festive sparkles—like a collapsing coil of fairy-lights—and that cloak, he looks oddly like he is swinging an incense burner.
Clearly there's been some sort of a row, and the Dalek, who won't have remembered that the Doctor always wins, has come off worst. And it's part of an ongoing thing about the Doctor waving bits of old foes around, if the poster for "The Time of the Doctor" is anything to go by.
This won't be the only appearance of the Daleks, of course. Here they are looking oddly festive, roasting chestbulbs in front of an open fire:
Meanwhile, what in the universe is THIS?
Any chance of a close-up? Because it looks for all the world like a wooden Cyberma…oh.
I know, right? And this lot look as startled as we are. That one in the front is like, "Malcolm, is that you?"
Is it something to do with the Wooden Queen and King from "The Doctor, The Widow and the Wardrobe"? And exactly who has been converted into whom?
And then there's the appearance of Orla Brady as the forbidding Tasha Lem, an old acquaintance of the Doctor's
And she's come mob-handed. Recognise the insignia on these soldier/priest's uniforms from "A Good Man Goes To War"?
So in summary, the answer to the question "what can we learn from the new pictures from 'The Time of the Doctor'?" is: not much, but my GOLLY it's going to be fun finding out more.
For bigger versions of these pictures, visit the Doctor Who website.
Oh and if you'd like to read an in-depth interview with Matt Smith about his last day as the Doctor, head on over to Radio Times.
See more:
WATCH: Paul McGann's Backstage Interview At 'The Night of the Doctor'
'Doctor Who' – Five Regenerations That Never Happened
Five British Sweet Things The Twelfth Doctor Could Carry In His Pocket
'Doctor Who': The 13 Best Callbacks and References in 'The Day of the Doctor'
Read More
Filed Under: