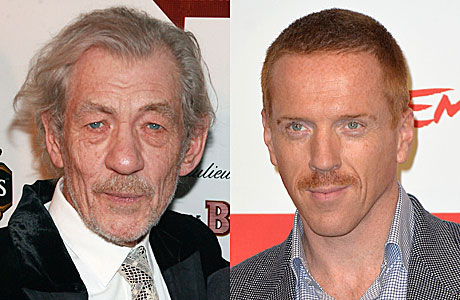 Y'know how sometimes you want to express a thought about your life, and before you know it you've made a sweeping generalization about someone else's, and then they find out about it and then find a way to let you know that they know?
That's sort of what has transpired between Damian Lewis and Sir Ian McKellen, although, being gentlemen, neither is quite at the squaring up in the car park for a bout of late night fisticuffs.
It all started in an interview Damian gave to the Guardian in October, in which he appeared to be having a pop at a certain type of British actor. He said he spent his twenties worrying that he would follow the path that leads to being "one of those slightly over-the-top, fruity actors who would have an illustrious career on stage, but wouldn't start getting any kind of film work until I was 50 and then start playing wizards."
What? It could be any number of people he's talking about there. Sir Ian, Michael Gambon, Richard Harris… er…
Sir Ian, for his part, has responded by telling the Radio Times magazine that while he thought Damian's take on things counted as "fair comment," he has no need to fear such an awful fate: "I'm very happy, he needn't worry about me."
"To rebut it, I wouldn't like to have been one of those actors who hit stardom quite early on and expected it to continue and was stuck doing scripts that I didn't particularly like just to keep the income up."
At which point he buffed his nails on his lapel, no doubt.
He continued: "I've always wanted to get better as an actor. And I have got better. You've only got to see my early work to see that. As for a fruity voice? Well, it may be a voice that is trained like an opera singer's voice: to fill a large space. It is unnatural.
"Actors have to be heard and their voice may therefore develop a sonorous quality that they can't quite get rid of, so you think actors are as pompous as their voice is large. I suppose Damian was thinking of that a little bit, too."
And then, the killer blow: "No one needs to feel sorry for me or Michael Gambon or anyone else who has fallen victim to success."
And then he vanished in a puff of righteous smoke.
See also:
Sirs Patrick Stewart and Ian McKellen Attract Rave Broadway Notices
WATCH: Sir Ian McKellen: 'I Preferred NYC When It Was Dirtier, More Dangerous'
Six Roles Featuring Damian Lewis' British Accent
Sir Patrick Stewart Gets Married By Sir Ian McKellen
Read More
Filed Under: