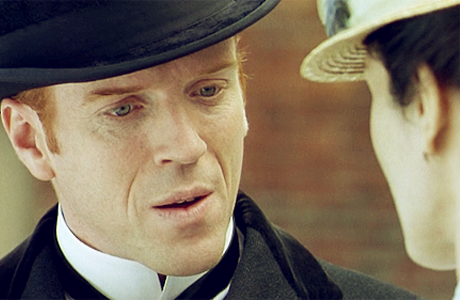 It's the season of goodwill to all men (and very probably all women too, otherwise the system must surely break down), and so it seems only fair to report that Damian Lewis has retracted his comments about not wanting to be one of those actors with "fruity voices" and a late-blooming career in a Harry Potter-style franchise.
I mean, sure, the retraction comes after having his ass handed to him on a Christmas platter by Sir Ian McKellen, who assumed the quote was aimed directly at him, but still, an apology is an apology and should not be sniffed at.
A contrite Damian has issued a statement saying "I am hugely embarrassed that comments of mine have been linked in a negative way to Sir Ian McKellen. I have always been, and continue to be, an enormous fan and admirer of Sir Ian's.
"He's one of the greats and one of the reasons I became an actor."
And then he sort of undermines himself a bit, adding, "My comment in the Guardian was a soundbite I've been giving since 1999 – it was a generic analogy that was never intended to demean or describe anyone else's career."
Lest we forget, this often-repeated-but-not-damning soundbite is Damian's wish that he doesn't ever become "one of those slightly over-the-top, fruity actors who would have an illustrious career on stage, but wouldn't start getting any kind of film work until I was 50 and then start playing wizards."
Which isn't UN-demeaning, and is fairly descriptive, but hey-ho.
In any case, he does find his feet again at the end, with a firm signoff: "I have contacted Sir Ian McKellen and have given him my sincerest apologies."
Whether these have been accepted or not is another matter entirely.
See also:
Sirs Patrick Stewart and Ian McKellen Attract Rave Broadway Notices
WATCH: Sir Ian McKellen: 'I Preferred NYC When It Was Dirtier, More Dangerous'
Six Roles Featuring Damian Lewis' British Accent
Sir Patrick Stewart Gets Married By Sir Ian McKellen
Read More
Filed Under: