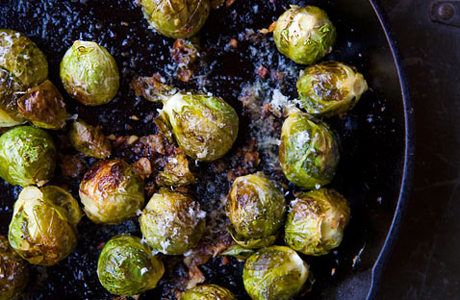 So, as we've said, Christmas in the U.S. isn't too different from what we knew back in Blighty, but there are a few things worth noting.
Don't bother trying to get Americans excited about Christmas cake or Christmas pudding, your chances of success are slim to none. When you tell them that Christmas cake is fruitcake, you lose them right there. Fruitcake in the U.S. is typically much drier than Christmas cake and when you explain that many Christmas cakes have been sitting in alcohol for up to six months, somehow it doesn't help matters. Christmas pud provokes an even stronger reaction, especially when doused in brandy butter and set on fire. And whatever you do, don't hide a coin in the mixture unless you want a (very expensive) trip to the emergency dentist.
Don't force Brussels sprouts on the uneager. Although some Americans like them, the ones that say they don't usually can't even be persuaded to try them. Granted, the boiled-into-submission sprouts many of us grew up with are truly terrible and their reputation precedes them, but even the posh recipes come up short for the sprout haters here.
Don't leave it too late to get hold of Christmas crackers. Although they are more readily available than they were when I came here over twenty plus years ago, you still don't see them everywhere and they're often not cheap. Availability is also hit and miss so if you hear on the Brit grapevine that they're in stock somewhere, do not dally.
Don't leave it too late to send your Christmas gifts back to the U.K. If possible, think of an alternative, like buying them when you're in the U.K.  or using a U.K. shopping web site. If sending items with a value of more than thirty six pounds, the recipient will be liable to pay customs and a handling fee. "… for goods imported from non EU countries, customs charges do apply, these may include import duty, excise duty and import VAT. Goods with a value exceeding £15 (for commercial items including internet/mail order purchases), or £36 in the case of gifts between private individuals, are generally subject to Customs charges." By the time you've paid postage and reimbursed your recipient for the customs fee (if you're nice), you've often spent more money than the gift is worth.
Don't laugh at the very formal, fancy photo cards you'll get in the mail. For many Americans, this is a way of catching up with people they don't see from one year to the next and it's serious business. If you think about it, since many parents stick a photo of the kids in Christmas cards anyway, it kills two birds with one stone. Unfortunately, some of them just miss the mark a little.
Finally, don't expect a day off work on Boxing Day unless it falls at the weekend. Although you might be able to use a vacation or personal day, there's no guarantee that you'll get the day off and you'll have to ask for "the 26th" off, not Boxing Day.
Do you have any additions to the list? 
See More:
Christmas Traditions: Britain vs. America
A Brit's Guide to the Holiday Season
Snapshot: 21 Photos of U.K. Christmas Lights
Read More
Filed Under: