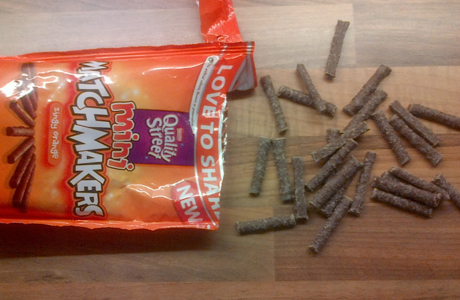 Though expats may still find it hard to believe there's no Boxing Day/public holiday on December 26th, they needn't fear an American Christmas dinner too much.
Happily, you'll find many of your edible favorites on tables across the U.S. too, though there are some things that you might not be able to get your hands on, and will leave you wishing for a taste of home.
Predictably enough, most of them are sweet treats (something that doesn't help with the "British teeth" cliché, but then they taste so good – and hey, it's Christmas after all!). Americans probably know—and may even like—Christmas pudding and mince pies, so this list is full of "single season" sweets/candies that magically appear during the holidays in the U.K., but then disappear from cupboards for the rest of the year.
1. Matchmakers – long, thin, twig-like candies that come in "cool mint" and "zingy orange" flavors (others flavors have been tried and failed; you can't mess with a classic). Like most childhood memories of candy being much bigger, with Matchmakers it's actually true: todays are at least a quarter shorter.
2. Turkish delight – this is not Turkish Delight, the solid, chocolate-covered purple jello affair you can get in stores everywhere in the U.K.; I'm talking about the elaborate, hexagon-shaped boxes of the "real" stuff. Flavored with rosewater, lemon or orange and often containing nuts, these random pieces of chewy gel were covered in white icing sugar and wrapped in complicated tissue paper. You could only manage one or two pieces, it's that rich.
3. After Eights – in my house at least, these were considered the most sophisticated of chocolates. Wafer thin peppermint-filled slivers that came in tiny black individual envelopes, they were only for eating after 8pm, insisted their glossy television commercials. How adult was that? Perhaps not enough to forget the gross way Monty Python referenced them (WARNING! NSFW):
4. "Eat Me" Dates – of course these sweet fruits have been a staple in the Middle East and elsewhere for centuries, but that sense of the unusual and exotic made these almost the ultimate single season product for a U.K. Christmas. Like another U.K. holiday favorite, Twiglets, (a sour chip version of Matchmakers, basically) dates were a "love it or hate it" affair. Either way, the tin plastic fork included in the rectangular pack always got lost immediately.
5. The "Presentation Box" – decorated in a holiday theme (reindeers, snowmen, Santa etc) they weren't special in themselves: it was the contents of at least half a dozen chocolate bars. You might find a Curly Wurly, a "finger" of Fudge, a Dairy Milk, a Toffee Crisp and a Caramel all in the one box, all from Father Christmas, and all for you. Merry Christmas!
What's your favorite treat? 
See More:
A Guide to British Christmas Traditions
What NOT to Do at Christmas: A Guide for Brits
A Brit's Guide to the U.S. Holiday Season
How to Cope with the Expat Christmas Blues

Read More
Filed Under: